The Department of Business at SWOSU offers a professional education in business that equips students with the high-tech and business skills they need to compete in today's economy, here at home in Oklahoma and across the globe.
Business Degrees
SWOSU's programs in business are some of the best in Oklahoma. Our graduates are prepared to join large and small companies or start their own. Having access to great thinkers and a dynamic faculty gives SWOSU business students an advantage over graduates from other universities. SWOSU's faculty are engaged and dedicated to the principles of precision, problem solving and progressiveness. These principles foster an in-depth curriculum that is complemented with constructive professor/student discussions. Our faculty seek the latest in industry trends and needs to make a learning environment that gives SWOSU grads a competitive edge. All SWOSU faculty take their roles as advisors seriously to help students be successful while here on our campus and in the future.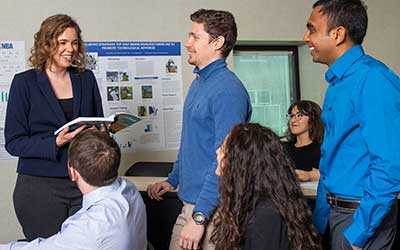 Bachelor of Business Administration
Bachelor of Science
Master
Minors
Accounting
Agricultural Business
Entrepreneurship
Finance
Human Resource Management
International Business
Management
Marketing
Certificate
Career Outlook for Business Majors
What Can I Do With a Business Degree?
In today's world, corporate business careers are available in most ever sector. All industries need strong leaders, managers, financial advisors and savvy decision makers. For many holding a degree in business, the traditional pathways hold strong appeal — including careers in the banking and financial arenas, consulting, human resources and marketing.
Why Major in Business?
Business majors benefit by learning a variety of skills that make job opportunities plentiful. The advantage of taking business courses is the extensive education covering a broad amount of information that is often coupled with areas of specialization, which can range from working with numbers — think finance — to personal development — think management.
Start Your Career With SWOSU
The faculty and staff of the department strive to create and sustain a professional attitude and close working relationship with students. In addition to emphasis placed on high quality instruction in the classroom, faculty encourage students to conduct themselves in an ethical manner and extend their learning beyond the classroom by participating in active business or computer science related clubs on campus.
Accreditation
The Everett Dobson School of Business and Technology at Southwestern Oklahoma State University is accredited by the Higher Learning Commission and has achieved specialized accreditation for its business programs through the Accreditation Council for Business Schools and Programs.