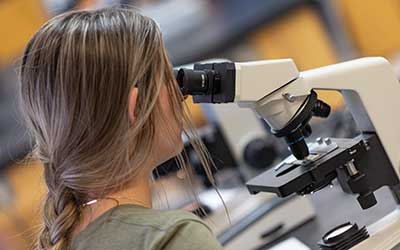 What is Biomedical Science
and Microbiology?
This degree expands the knowledge of students who have acquired a bachelor's degree in life and/or physical sciences through graduate-level coursework in subjects like cell and molecular biology, genetics, microbiology, immunology, physiology, and anatomy. This program enhances the preparation of students aspiring to careers in education or health professions requiring graduate-level biomedical sciences and microbiology training.
Why

Biomedical Science and Microbiology

at SWOSU?

SWOSU's acclaimed faculty is committed to providing students with foundational knowledge and skills in biomedical sciences and microbiology and exposure to emerging technology through graduate-level laboratory courses and independent research experiences. Graduates with a M Ed. In Biomedical Sciences and Microbiology from SWOSU gain meaningful experience participating in experiments, projects, and activities that can be implemented to engage the next generation of scientists in the classroom.