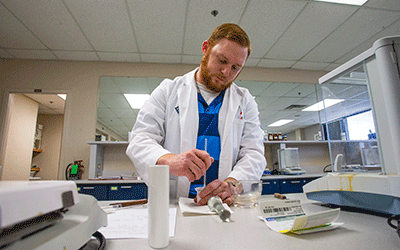 What is Pharmacy?
A pharmacist is a licensed healthcare professional who is a specialist in using drug therapies to maximize quality health outcomes. As the most accessible member of the healthcare team, the pharmacist is often the first healthcare professional a patient or family member will talk to about healthcare questions and concerns. Pharmacists have historically been listed as one of the most trusted health care professionals. Since pharmacy involves working with both patients and other healthcare professionals, a pharmacist must have excellent communication skills and work effectively as a member of a team. The pharmacy curriculum involves the study of drug dosage forms, how drugs are used to treat diseases, the health care system, pharmacy management and administration, patient counseling, and practical experiences in different pharmacy practice settings.
Why Study Pharmacy at SWOSU?
The SWOSU College of Pharmacy is one of the best educational values of its kind in the nation. Our Doctor of Pharmacy program stands on the shoulders of a tradition of excellence that's been in place since 1939. Even with this long tradition in place, the program still innovates, giving you the ability to tailor your education with an MBA dual degree option or a specialization in pharmacy leadership. Both give you a considerable advantage in the job market upon gradation. Graduates of the College of Pharmacy also have an impressive 94 percent three-year average pass rate on the NAPLEX. That's well above the national average. In fact, the only thing below average about our program is the cost of tuition, $1,477 less than the average cost of PharmD programs at public institutions in the South.