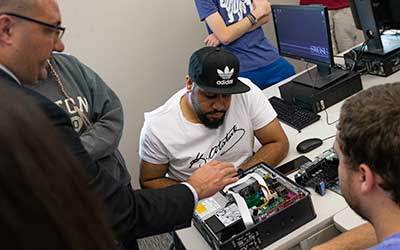 What is Computer Science?
Computer science is a field that reaches virtually every industry. A computer scientist takes the data produced in a business and creates useful information. Also, a computer scientist takes the objective of a business and writes code to meet the business objective. A computer scientist works in many other areas between these two spectrums as well.
Why Study Computer
Science at SWOSU?
An Associate degree in Computer Science at SWOSU can prepare you for an entry-level career position or a stepping stone into a bachelor's degree in any other field. Because computer science affects all careers, a two-year degree in computer science will help you understand the basics of programming and hardware configuration. If you decide to continue with a four-year degree, the computer science courses can be counted as your minor.