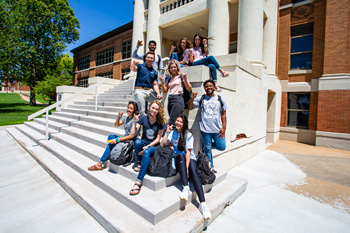 The Admissions staff will work with you personally to meet your every need as you navigate the admissions process and become a proud member of the Bulldog Nation!
SWOSU students represent 75 of 77 counties in Oklahoma, 39 states in the U.S, and 20 different countries. You can see all the data about SWOSU in our Fact Book.
Find out why SWOSU is one of the best universities in the nation!
First-time College Students
We are eager to help you through this big transition from high school to college. Our New Student Orientation will provide academic advisors who help build class schedules tailored to your interests.
Orientation is required of all first-time entering freshmen. You will receive one hour of credit for attending the enrollment session, Mass Orientation, and the freshman orientation course in the fall.
Once you've been accepted to SWOSU, select an Orientation Session and register online or by phone: 580.774 3233. Sessions do fill quickly so register early! (Orientation carries a $5 fee, added to your first semester's bill.)
Transfer Students
Your previous college experience is valuable and we welcome you to bring your perspective here to Bulldog Nation. SWOSU is ready to help you take on this next phase of your college. Learn more about Transfer Admissions.
International Students
The SWOSU community truly spans the globe, with students from over 20 nations worldwide. We are ready to help SWOSU to become your home away from home! Learn more about International Admissions.
Graduate Students
SWOSU features several industry-leading graduate degree programs. We will help your hard work pay off while also providing a highly affordable advanced degree. Learn more about Graduate Admissions.
Concurrent / High School Students
SWOSU is proud to provide Oklahoma high school students the opportunity to get a step ahead by taking college courses at a discount alongside their schedule at the high school. Learn more about Concurrent Enrollment.
Re-admission Students
Had to hit pause on your SWOSU education? No worries, we are ready to help you get back on track to complete your degree. Find more info for Re-admission Students.