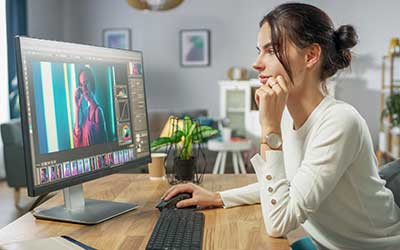 What is Graphic Design?
Graphic Designers create innovative and artistic ways to present information for advertisements, product labels, magazines, books, corporate publications, and many more printed and electronic media. You will learn advertising design, typographic design, photography, and art history as well as various studio classes. During the degree,you are taught professional practices of graphic design and how to present your work through your own portfolio (online and printed media).
Why Graphic Design at SWOSU?
SWOSU offers you a state of the art graphic design lab with the latest versions of industry standard software and iMac computers. Instructors have teaching and industry experience. You have the opportunity to work in the university design studio and work with actual clients to build your portfolio and design experience.
What Can I Do With This Degree?
Graduates of the Bachelor of Fine Arts degree program in Graphic Design may seek employment on the creative staffs of advertising agencies, design studios, publishing houses or corporate communications departments in entry-level positions such as graphic designer, production artist for a design staff, or as a junior art director.