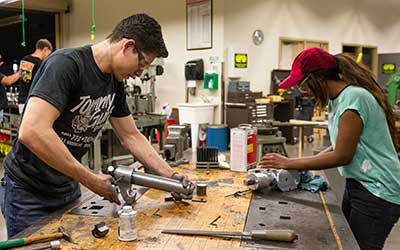 What is the Manufacturing Option
in Engineering Technology?
This degree program focuses on the creation of products, including testing for strength and safety.
Why Manufacturing at SWOSU?
At SWOSU, we give you a great foundation in a variety of technical careers. You might be employed in the areas of design, quality control, materials testing, technical sales, automation, safety, management and fabrication. During the last semester, many graduating students pass the standardized certification exam and enter the work force as Certified Manufacturing Technologists, a credential that is valuable in the oil and gas industry and manufacturing.