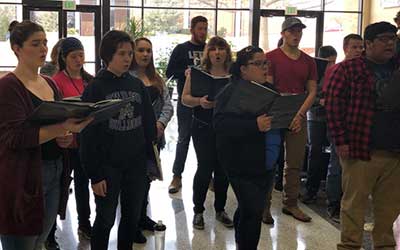 What is Music Education?
This degree allows vocal students to refine teaching and performance techniques appropriate to choral music education for all grade levels in the various schools. Students will study their major performance area, will perform in large and small ensembles, further develop analytical and theoretical skills and gain specialized knowledge in the history of music. Small class sizes allow personal interaction with faculty. Students will also learn about teaching practices from highly qualified and experienced professors in the music department.
Why Study Music Education at SWOSU?
The SWOSU Department of Music has a long tradition of producing great music educators. As a result, you will be sought after for teaching positions in the state and beyond. The department of music has a caring and distinguished group of artist/faculty members and a variety of ensembles both large and small.