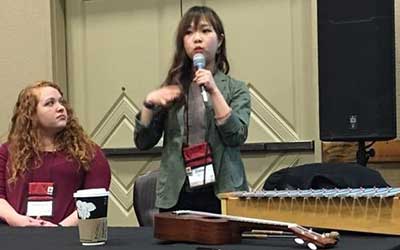 What is Music Therapy-Instrumental Emphasis?
Music Therapy is an established health profession that strategically uses musical experiences to address clinically determined therapeutic goals related to the communicative, physical, emotional, cognitive and social needs of individuals. With an instrumental emphasis, students study their primary instrument and develop high level performance skills in ensemble and solo settings.
Why Study Music Therapy at SWOSU?
Founded in 1981, students in the SWOSU Music Therapy Program receive nationally-accredited training and great field experiences serving people from infants to the elderly in many settings. SWOSU Music Therapy Students are frequent presenters in the Research Fairs/Conferences at local, state, regional and national levels. We also offer the Master of Music in Music Therapy.