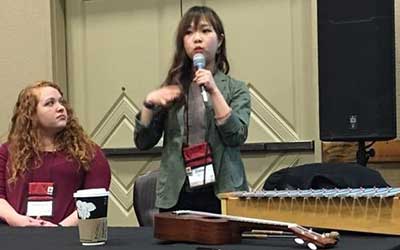 What is Music Therapy?
Music Therapy is an established health profession that strategically uses music experiences to address clinically determined therapeutic goals related to the communicative, physical, emotional, cognitive and social needs of individuals.
Why Study Master of Music
in Music Therapy at SWOSU?
Launched in 2016, the SWOSU Master of Music in Music Therapy (MMMT) deepens students' professional competencies in music therapy via a degree plan emphasizing on the Multiculturalism and Entrepreneurship in Music Therapy Practice. Students receive the direct mentorship in the advanced clinical practice, supervision, program development and administration over 20 options serving people from infants to the elderly in the educational, medical, rehabilitative, mental health, long-term care, and hospice/palliative/bereavement settings supported by the evidence-based, patient-centered theoretical and clinical principles. Graduates of SWOSU MMMT are successful Music Therapy clinicians, entrepreneurs, researchers and educators; they are also equipped for doctoral studies.