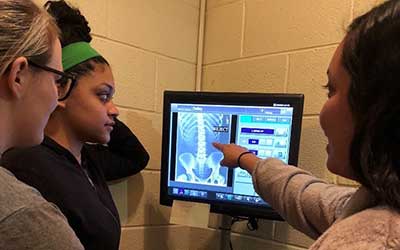 What is Radiologic Technology?
A Radiologic Technologist administers x-rays to assist physicians in diagnosis and treatment of patients. Radiologic Technologist is synonymous with other professional titles like X-ray Technologist or Radiographer. The Radiologic Technologist provides services in both routine and emergency or trauma situations.
Why Radiologic Technology
at SWOSU?
You will be prepared to work as a Certified Radiologic Technologist. Our faculty and staff are committed to providing a supportive environment for you to reach your full potential. The Associate of Applied Science degree in Radiologic Technology is offered through a partnership with Western Technology Center. Find out more...

The Joint Review Committee on
Education in Radiologic Technology
20 North Wacker Drive, Suite 2850
Chicago, Illinois 60606-3182
Phone: 312-704-5300
Email: mail@jrcert.org
Website: www.jrcert.org
The SWOSU Radiologic Technology Program is accredited through JRCERT. The length of accreditation is 5 years.