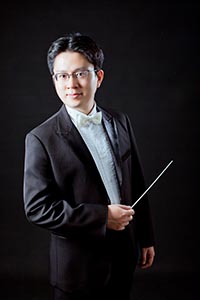 Music
Assistant Professor
OKH 118
Dr. Hsuan-Yu (Alex) Lee is currently in his first season as the director of the Southwestern Oklahoma State University Symphony Orchestra and fifth season as the conductor of the Dallas Asian American Youth Orchestra. Dr. Lee has accumulated experience conducting professional orchestras and teaching at the university level. His career has taken him across the United States, Europe, and Asia including collaborations with the Baltimore Chamber Orchestra, Cabrillo Festival Orchestra, Lynchburg Symphony Orchestra, Norwalk Symphony Orchestra, Lamont Symphony Orchestra, Bohuslav Martinů Philharmonic Orchestra, New Japan Philharmonic Orchestra, Xia-Men Philharmonic Orchestra, Shanghai Opera House Orchestra, University of North Texas Symphony Orchestra and National Taiwan Normal University Symphony Orchestra.
Dr. Lee is a participant conductor for the famed Cabrillo Music Festival in 2015 and is the recipient of the Bruno Walter Conducting Scholarship. He is also a participant of the prestigious Tokyo International Conducting Competition in 2012 and a semi-finalist of the Bruno Walter National Conductor Preview held by the League of American Orchestras in 2013.
Dr. Lee enjoys collaborations with renowned soloists such as pianist Gustavo Romero, violinist Linda Wang, violist Susan Dubois, flutist James Scott, Clarinetist Stacey DiPaolo and Saxophonist Keith Talley. In 2013, he was the guest conductor for the National Taiwan Normal University Symphony Orchestra Asia Tour. He led the orchestra to perform four concerts in Beijing and Taipei.
As an accomplished violinist and violist, Dr. Lee has held multiple concerts in the U.S and Asia. He was the soloist with the Chi-Yen Symphony Orchestra in 2005 and the New Music Ensemble Orchestra in 2004. He has won several important music competitions in Taiwan and served as a principal player with the Voice of Spring Orchestra and National Taiwan Normal University Symphony Orchestra. He is invited to join the Las Colinas Symphony Orchestra in 2015. Lee has studied with several renowned soloists, such as violinist Michael Shih (Concertmaster of the Fort Worth Symphony Orchestra), Hao-Tun Deng (Associate Concertmaster of National Symphony Orchestra Taiwan), violist Susan Dubois (Professor of Viola at University of North Texas) and Charles Pikler (Principal Viola of Chicago Symphony Orchestra)
Dr. Lee holds a Doctoral of Musical Arts Degree from the University of North Texas. He has studied primarily with Maestri Apo Hsu, and David Itkin and worked with distinguished conductors such as David Effron, Larry Rachleff, Jorma Panula, Gunther Herbig, Marin Alsop, Miguel Harth Bedoya and Jaap van Zweden in seminars and master classes.