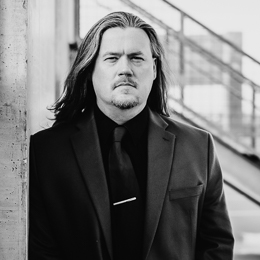 Professor
Department: Music
Office: FAC 108
Phone: 580.774.3208
Email: daniel.farris@swosu.edu
---
For 24 years, Daniel Farris has worked professionally as a choral conductor, tenor soloist/chorister, adjudicator, and voice teacher. Raised in the strong choral tradition of west Texas music education, he completed a Bachelor of Music with all-level teacher certification at Angelo State University under the direction of Dr. Pamela Lee. After teaching with Jeff Rice at John Glenn Junior High School, the University of North Texas hired Daniel as a teaching fellow to teach men's chorus (1998 – 2001) and aural skills (2001 – 2003) concurrently with his DMA study in conducting. In this capacity, he worked with Dr. Jerry McCoy, Dr. Gene Cho, Professor Henry Gibbons, and other marvelous educators and professionals in the conducting, theory, and opera divisions. After teaching at Arlington High School with Ms. Dinah Menger (2004 – 2006), Daniel received the position at Southwestern as choral conductor and teacher of the choral music education sequence.
Daniel holds a Doctor of Musical Arts degree in conducting with related fields of music theory and musicology from the University of North Texas. He also performed as a singer and conductor of church music serving various congregations for 24 years.
Daniel is in his 14th year as director of choral activities and vocal area coordinator at Southwestern Oklahoma State University and teaches applied voice, applied conducting, and the choral music education sequence to performance, education, and music therapy majors. He also teaches the Southwestern summer choral camp for OMEA/OCDA preparation and other workshops during the academic year that work to further enrich and improve the audition skills needed for successful placement in the state-level honor choirs. Daniel is a fervent advocate in the consistent use of solmization, voice building, and ensemble coaching in every rehearsal to better reinforce fundamentals of vocal music pedagogy and other core music principles found throughout a rounded music education.
Daniel is a regional and international scholar with focused interests in choral pedagogy, score study/editing, and modern language diction, having presented at international and regional conferences on these topics. In the summer of 2013, Daniel completed a two-week lectureship as a "distinguished visiting professor" at the Taipei Municipal University of Education (now University of Taipei), teaching choral and solo master classes and a series of literature and diction courses focusing on Spanish and Latin American composers from the early Baroque and Romantic periods. He has presented at the Oklahoma Choral Directors Association conference (Old Church Slavonic: a Diction Primer for Choral Directors, 2017), Southwestern American Choral Directors Association conferences (Practical Editions and Choices: A Review of Score Selection of Renaissance Music in the Digital Age, 2012 and Two Birds with One Stone: Building Ears and Larynges, 2020), and other conferences.
Daniel's choirs have performed as honor choirs at conferences in Texas (TMEA 2005), Oklahoma (OkMEA 2011 and 2017 and OkPAS 2014), and Arkansas (CMS 2014 and 2018. Daniel is an active clinician/conductor, having conducted the Kansas City Metro Tenor-Bass Honor Choir (MMEA 2019), the Western Oklahoma Choral Directors Association (2008), and other honor choirs. Daniel has performed with various ensembles in Italy, England and the United States throughout his career. He has been a guest artist with groups in the southwestern United States, including the Arts District Chorale (Dallas 2011 – 2012) and the Denton Bach Society (Denton, TX). Daniel also serves as a judge for the national music competition, The American Prize, and is an adjudicator, auditions materials coordinator, and a music advisory board member of the Oklahoma Arts Institute.
Feel free to view the Department of Music website of Southwestern Oklahoma State University. For more information or questions about the vocal/choral division and study in Southwestern's music department, contact him at daniel.farris@swosu.edu or 580.774.3208.
Office Hours
Monday-Friday
9 – 9:50 a.m.
(variable – consult schedule on office door)
Courses Taught
| Course No. | Course Title |
| --- | --- |
| 2423 | Principles of Conducting |
| 2447 | Chamber Choir |
| 2448 | Community Chorus |
| 2464 | Vocal Methods |
| 2444 | Southwestern Singers |
| MUSIC 3151 | Choral Conducting |
| MUSIC 4502 | Choral Literature |
| MUSIC 2951 | Modern Language Diction I |
| MUSIC 3951 | Modern Language Diction II |