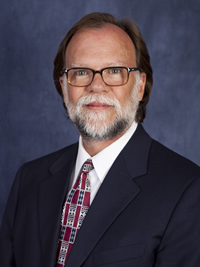 Music
Chair, Professor
FAC 100-A
David Bessinger is a Professor of Music at Southwestern Oklahoma State University, where he has taught since 1984. He holds a Bachelor of Music Education degree from Baylor University, a Master of Music in Percussion Performance degree from the University of Illinois at Champaign-Urbana and a Doctor of Musical Arts degree from the University of Oklahoma. His primary percussion teachers were Dr. Larry Vanlandingham and Professor Thomas Siwe. He has also studied in seminars with marimbists Leigh Howard Stevens in Asbury Park, New Jersey and Nancy Zeltsman in Boston, Massachusetts.
His teaching areas at SWOSU include all facets of percussion performance and pedagogy. As director of the Southwestern Oklahoma State University Percussion Ensemble he has organized and presented concerts on campus and at the State Festivals sponsored by the Percussive Arts Society. As director of percussion at SWOSU, he has organized seminars, workshops and festivals for performing musicians to appear on campus. These include marimbists Gordon Stout (Ithaca College), Leigh Stevens, Nancy Zeltsman (Boston Conservatory), Dr. Michael Varner (University of Texas at Arlington), Dr. Nathan Daughtrey (High Point University), Dr. Blake Tyson (University of Central Arkansas), vibraphonists Jerry Tachoir, and Dr. Ricardo Sousa (University of Oklahoma), and electronic percussionist Dr. Scott Deal (University of Alaska). Through the sponsorship of the annual SWOSU Jazz Festival, numerous drum set performers have appeared on campus, including Ed Soph, from the University of North Texas and Steve Houghton from Indiana University. Dr. Bessinger is a past President of the Oklahoma Chapter of the Percussive Arts Society and has hosted the Oklahoma Percussion Festival on four occasions. As well, he is active in the music school's outreach program through seminars and summer camps for young percussion students. In addition to percussion, he teaches courses in Music Theory and Music of the Twentieth-Century.
As a performer, Dr. Bessinger is active as a marimbist and chamber musician. He has performed Daniel McCarthy's Chamber Symphony for Marimba and Winds as well as David Gillingham's Concerto for Marimba and Wind Ensemble with the SWOSU Wind Ensemble. The second work was a consortium project that involved SWOSU with twenty-six other performers and conductors in the commissioning process. As a chamber musician Dr. Bessinger has performed works with SWOSU colleagues including Ingolf Dahl's Duettino Concertante for Flute and Percussion, David Maslanka's Song Book for Marimba and Alto Saxophone, Gordon Stout's Duo Dance Song and Gregory Sanders' Glass Dreams for Vibraphone, Trumpet and Piano. The later work was performed in Taipei, Taiwan in December 2010 as part of SWOSU's exchange program with Taipei Municipal University of Education. Dr. Bessinger has performed at the National Conference on Percussion Pedagogy and the North American Saxophone Alliance Conference with SWOSU faculty colleague Dr. Keith Talley. As an orchestral musician Dr. Bessinger has performed with the Oklahoma City, Shreveport, Waco, Champaign-Urbana and Quartz Mountain Orchestras.
David Bessinger is married to Marti Bessinger, who teaches elementary music in the Weatherford Public Schools. She is a past President of the Oklahoma Orff Chapter. They have two children, Nicholas and Alexander.
Office Hours
MWF - 8:00 am
TTR - 9:00 am
Courses Taught
| Course No. | Course Title |
| --- | --- |
| | Applied Percussion |
| Music 4041 | Percussion Ensemble |
| Music 1611 | Percussion Methods |
| Music 3253 | Music Theory III |
| Music 3303 | Music Theory IV |
| Music 5802 | Music of the Twentieth Century |