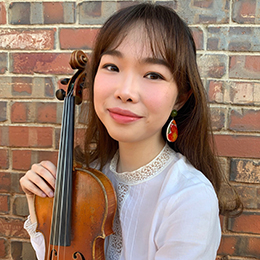 Music
Didier Suat Furn Khoo joined the faculty of Southwestern Oklahoma State University in fall 2020. She instructs courses in applied violin and piano, music therapy core courses, class piano, history of rock and roll, and music therapy field studies. She also serves as a clinical supervisor for student music therapists. An active performer, Khoo's career as an orchestral violinist led her to perform in Singapore with various orchestras such as the Metropolitan Festival Orchestra, Singapore Lyric Opera, and The Philharmonic Orchestra. She remains active in the local chamber music community and serves as a guest player in the Southwestern Oklahoma State University Orchestra. Khoo continues to be an active educator in SWOSU's annual String Camps, SWOSU Music Academy, and the Weatherford Arts Council Summer Arts Academy Violin Camps.
Khoo's expertise is in Music Therapy in Special Education and Medical Music Therapy. She holds a license to practice music therapy in the state of Oklahoma (LPMT) and is a board-certified music therapist (MT-BC). Khoo has also completed her Neurologic Music Therapy training and is active in various NMT support groups nationwide. She currently serves as the Southwestern Region Representative on the American Music Therapy Association's International Relations Committee.
Her clinical experiences include children in special education services, medically fragile children, at-risk youth, adaptive music lessons and older adults in memory care and assisted living settings. A recipient of the 2016 Oklahoma Center for Advancement of Science and Technology (OCAST) award, Khoo's passion for research and education in music therapy continues to have her host presentations at the American Music Therapy Association national and regional conferences. Her most recent co-authored publication can be found in Music Therapy Perspectives.
Khoo is currently pursuing her PhD in Music Therapy at Indiana University – Purdue University Indiana. She obtained her Master of Music in Music Therapy (MM) from Southwestern Oklahoma State University and Bachelor of Music (BMus) in Music Performance from the Royal College of Music, UK. Former teachers include Nikolai Koval, Foo Say Ming, Detlef Hahn, and Ashley Solomon.