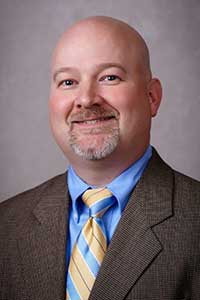 Associate Professor
Department: Pharmacy Practice
Office: OSU Physicians, Department of Internal Medicine Houston Center
717 S. Houston Ave., Suite 300
Tulsa, OK 74127-9006
Phone: 918.586.4513 Fax: 918.382.3559
E-mail: jeremy.johnson@swosu.edu jeremy.johnson10@okstate.edu
EDUCATIONAL BACKGROUND:
| Degree | Institution | Area of Study |
| --- | --- | --- |
| B.S. | University of Oklahoma | Zoology |
| B.S. | University of Oklahoma | Pharmacy |
| PharmD | University of Oklahoma | Pharmacy |
| Residency | University of Texas Health Science Center at San Antonio | Ambulatory Care |
SCHOLARLY INTERESTS AND RESEARCH AREAS:
Outcomes research with emphasis on improving the practice of pharmacy and patient care
Case reports (often related to diabetes, dyslipidemia, hypertension, asthma, anticoagulation, or hepatitis C)
Patient empowerment in chronic disease state and medication management (ambulatory care) while maintaining health literacy sensitivity
Education and Mentorship
COURSES TAUGHT:
| | |
| --- | --- |
| Pharmacotherapy III | Pharm 5234 |
| Pharmaceutical Care Lab V | Pharm 5351 |
| APPE - Medicine Selective A | Pharm 5954 |
| APPE - Medicine Selective B | Pharm 5964 |
| APPE - Ambulatory Care | Pharm 5994 |
EXPERIENCE:
Faculty with The University of Oklahoma College of Pharmacy 2001-2015
Certified Diabetes Educator (CDE) since 2003
Board Certified in Advanced Diabetes Management (BC-ADM) since 2011
Board Certified Ambulatory Care Pharmacist (BCACP) since 2011
SELECTED PUBLICATIONS:
Matta TM, O'Neal KS, Johnson JL, Carter SM, Lamb ML, Planas LG. Interventions to improve dissemination and implementation of Hepatitis B vaccination in patients with diabetes. JAPhA (Journal of the American Pharmacists Association). 2017; 57:183-187. http://dx.doi.org/10.1016/j.japh.2016.11.004.
David C, O'Neal KS, Miller MJ, Johnson JL, Lloyd A. A Literacy-Sensitive Approach to Improving Antibiotic Understanding in a Community-Based Setting. International Journal of Pharmacy Practice. 2017. DOI:10.1111/ijpp.12332.
Johnson JL, O'Neal KS, Pack CC, Carter S. Barriers to Patient use of Control Solution for Glucose Meters: Surveys of Patients, Pharmacists, and Providers in a Metropolitan Area. Journal of Diabetes Science and Technology. November 15, 2016 (online). DOI: 10.1177/1932296816678427.
Johnson JL, Downes JM, Obi CK, Asante NB. Novel concentrated insulin delivery devices: developments for safe and simple dose conversions. Journal of Diabetes Science and Technology. November 28, 2016. DOI: 10.1177/1932296816680830.
O'Neal KS, Johnson JL, Panak RL. Recognizing and Appropriately Treating Latent Autoimmune Diabetes in Adults. Diabetes Spectrum. 2016 Nov; 29(4): 249-252. https://doi.org/10.2337/ds15-0047.
Downes JM, O'Neal KS, Miller MJ, Johnson JL, Gildon B, Weisz MA. Identifying opportunities to improve medication management in transitions of care. Am J Health-Syst Pharm. 2015; 72(suppl2):S58-69. doi: 10.2146/ajhp150059. September 1, 2015.
Winder MB, Johnson JL, Planas LG, Crosby KM, Gildon BL, and Oberst-Walsh LA. Impact of Pharmacist-Led Educational and Error Notification Interventions on Prescribing Errors in a Family Medicine Clinic. JAPhA. 2015;55:238-245. Doi: 10.1331/JAPhA.2015.14130.
O'Neal KS, Johnson JL, Swar S. Nontraditional Considerations with Insulin Needle Length Selection. Dia Spectr (Diabetes Spectrum) November 2015 28:4 264-267; doi:10.2337/diaspect.28.4.264.
Johnson JL, O'Neal KS, Pack CC, Kim MK. Management of a Prediabetes case with the DPP-4 Inhibitor Sitagliptin. Ann Pharmacother (Annals of Pharmacotherapy) 2014;48(6):811-815. DOI: 10.1177/1060028014528681.
Johnson JL, O'Neal KS. An Initiative to Transition New Faculty from Resident to Residency Preceptor through Direct Mentorship. Curr Phar Teach Learn (Currents in Pharmacy Teaching and Learning). 2014. Published online, May 2014; DOI 10.1016/j.cptl.2014.04.013.
Garrison RM, Johnson JL, Condren ME, Farmer KC, Jelley DH. Influence of the Type of Basal Insulin and Other Variables on Clinical Outcomes in Children with Newly Diagnosed Type 1 Diabetes. ISRN Pediatrics Published online. Doi.org/10.1155/2014/758343. February 6, 2014.
Pham TT, Miller MJ, Harrison DL, Lloyd AE, Crosby, KM, Johnson JL. Association between Cardiovascular Disease and Nonsteroidal Anti-inflammatory Drug Prescribing In the Midst of Evolving Guidelines. Journal of Evaluation in Clinical Practice. Published Online. doi:10.1111/jep.12014. November 19, 2012.
Conway S, Johnson J, Ripley T. Integration of Team-Based Learning Strategies into a Cardiovascular Module. Am J Pharm Educ 2010; 74 (2); 1-7.
SELECTED PRESENTATIONS:
National Presentations:

Johnson J, O'Neal K. Pathophysiology of Prediabetes and Early Treatment Considerations. Platform Presentation. American Association of Diabetes Educators Annual Meeting and Exhibition (AADE15). New Orleans, LA. August, 2015.
O'Neal K, Johnson J. The Role and Management of Statins in Dyslipidemia and Addressing Patient Barriers to Use. Platform Presentation. American Association of Diabetes Educators Annual Meeting and Exhibition (AADE15). New Orleans, LA. August, 2015.
O'Neal K, Johnson J. An Evaluation of the Barriers to Patient use of Glucometer Control Solution: A Survey of Patients, Pharmacists, and Providers. Research Session Platform Presentation. American Association of Diabetes Educators (AADE14) Annual Meeting. Orlando, FL. August 6, 2014
Johnson J, O'Neal K. Managing Cardiovascular Complications of Diabetes: Dyslipidemia and Hypertension. Platform Presentation. American Association of Diabetes Educators Annual Meeting and Exhibition (AADE13). Philadelphia, PA. August, 2013
Brunner LJ, Johnson J, Ofstad W, Lloyd AE. Team Based Learning: Windfalls and Pitfalls. "Special Session" Platform Presentation. American Association of Colleges of Pharmacy Annual Meeting. Chicago, Il. July 16, 2013

State Presentations:

Johnson J. New Concentrated Insulin Products: How to avoid dosing errors. University of Oklahoma Health Sciences Center College of Pharmacy Walter P. Scheffe Continuing Pharmaceutical Education Series, Oklahoma city, OK. November 13, 2016.
Johnson J. New Concentrated Insulin Products: How to avoid dosing errors. Oklahoma Society of Health-System Pharmacists (OSHP) Fall Meeting. Tulsa, OK. October 14, 2016.
Johnson J. Strategies for Managing Type 2 Diabetes on a Budget. Diabetes Management and Teaching Strategies: Beyond the Basics 2015. Harold Hamm Diabetes Center. Oklahoma City, OK. May 15, 2015.
Johnson J. Highlights of the new cholesterol and blood pressure guidelines: New philosophies and controversies. University of Oklahoma Health Sciences Center College of Pharmacy Walter P. Scheffe Continuing Pharmaceutical Education Series, Tulsa, OK. November 1, 2014
Johnson J. Highlights of the new blood pressure and cholesterol guidelines: A whole new philosophy. Oklahoma Society of Health-System Pharmacists (OSHP) Annual Meeting. Oklahoma City, OK. April 4, 2014
Johnson J. Dyslipidemia Guidelines in 2012: Is Anything New? University of Oklahoma Health Sciences Center College of Pharmacy
Walter P. Scheffe Continuing Pharmaceutical Education Series, Tulsa, OK. November 2012