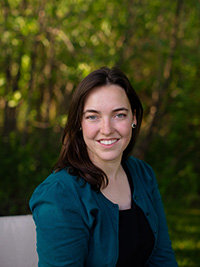 Music
Assistant Professor
FAC 120
Dr. Kristin Griffeath, soprano, is an Assistant Professor at Southwestern Oklahoma State University (SWOSU). She teaches applied voice lessons and music history, co-directs the Opera Workshop program each fall, and conducts the Women's Chorus. She currently serves as the faculty advisor to SWOSU's growing SNATS (Student National Association of Teachers of Singing) chapter.
Dr. Griffeath is a graduate of the University of Missouri–Kansas City (UMKC) Conservatory of Music and Dance, where she completed a Doctor of Musical Arts degree in Voice Performance and a Master of Music degree in Musicology. She spent three years living in Tucson, Arizona, working in the public schools as a music educator while earning a Master of Music degree in Voice Performance from the University of Arizona. Originally from Minneapolis, Minnesota, Dr. Griffeath attended the Lawrence University Conservatory of Music in Appleton, Wisconsin, earning a Bachelor of Music degree in Vocal Music Education and Piano Performance.
Her recent research has involved sheet music from World War I, and her thesis, "War Sirens: How the Sheet Music Industry Sold World War I" earned the 2012-2013 Distinguished Master's Thesis Award from UMKC. Her continuing research into popular music of the war has prompted a collaboration on an exhibit for the National World War I Museum in Kansas City, Missouri. Dr. Griffeath was the 2011-2012 recipient of the UMKC Conservatory of Music and Dance Superior Graduate Teaching Assistant Award.
She has appeared as "Miss Wordsworth" in Britten's Albert Herring, the "Taumannchen" in Humperdinck's Hänsel und Gretel, "The Lady with a Hand Mirror" in Argento's Postcard from Morocco, "Nella" in Puccini's Gianni Schicchi, and "Dorine" in Mechem's Tartuffe. She has performed with the Tucson Masterworks Chorale, the Tucson Symphony Orchestra Chorus, and the Tucson Chamber Artists.
Office Hours
Monday - 11:00 am-12:00 pm, 1:00-2:00 pm
Tuesday - 9:00-10:00 am, 3:00-4:00 pm
Wednesday - 11:00 am-12:00 pm, 3:00-4:00 pm
Thursday - 9:00-10:00 am, 3:00-4:00 pm
Friday - 11:00 am-12:00 pm, 3:00-4:00 pm
Courses Taught
| Course No. | Course Title |
| --- | --- |
| Music 3353 | History of Music I |
| Music 3403 | History of Music II |
| Music 2811 | Class Piano I |
| Music 2101 | Voice Class |
| Music 4251 | Opera Workshop |
| Music 4452 | Vocal Methods |
| Music 4141 | Chorus - Women's Chorus |
| | Applied Voice |