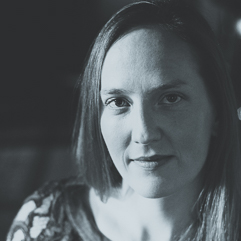 Music
Nola Strand is a new addition to the music faculty at Southwestern Oklahoma State University. She has been based in Oklahoma City for the past five years where she works as a pianist, teacher, and vocal coach. Ms. Strand is in high demand as a recitalist with performances throughout the US, as well as past engagements in Mexico, Austria, and her Canadian homeland.
A deep passion for musical collaboration has inspired her to work with students of all levels on a wide variety of genres and styles. While based in DFW she was the studio pianist for several voice and instrumental teachers, notably Professor Jennifer Lane and Dr. Kimberly Cole-Luevano. With students of Dr. Cole she performed a large portion of the standard clarinet repertoire including the Brahms and Bernstein sonatas, the Ireland-Fantasy Sonata, numerous concertos, and Stravinsky's "L'histoire du soldat".
During her academic studies Nola was captivated by vocal repertoire, both art song and opera. Participation in master classes and summer festivals dedicated to the study of these genres has enabled her to work with world-class musicians like Margaret Singer, Graham Johnson, Julius Drake, Jake Heggie, and many others. With a strong background in languages and diction, she has worked as a repetiteur and vocal coach with UNT Opera, Opera Breve, and Pensacola Opera. She is fluent in French, and has studied Italian, German, Spanish, and a little Arabic.
In 2017, with Dr. Alicia Wallace, Nola formed Duo Commosso, an intimate chamber group dedicated to exploring the tradition of salon performance in the contemporary world. In this capacity they have presented concerts in a multitude of settings, including a lecture-recital of works by Franz Schreker at Texoma NATS in Waco, TX, and an outreach concert as part of SOSU's "Oklabertiade" in Choctaw, OK.
Her education includes a Master's degree in Collaborative Piano from the University of North Texas and a Bachelor's degree in Piano Performance with Distinction from the University of Victoria. While at UNT she saw the need for the creation of a group dedicated to fostering communication within the musical community and providing educational and performance opportunities for her fellow pianists. Together with Dr. Saule Garcia she founded North Texas Collaborative Pianists. Among other things, NTCP organized master classes and recitals and oversaw a page on the UNT College of Music website that enabled musicians to submit requests for pianists.
Nola is blessed to be able to perform works for guitar and piano with her award-winning husband, Dr. Stephen Lochbaum. She has recently found a spiritual home in Wesley United Methodist Church where she serves as pianist. In her free time Nola enjoys spending time with her two cats, crocheting, playing disc golf, and maintaining a patio garden when Oklahoma weather permits.