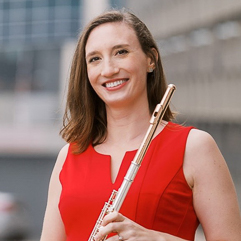 Music
Associate Professor/Chair
FAC 100A
An active performer, Shelley Martinson has appeared as a soloist, orchestral and chamber musician throughout the United States. Martinson joined the faculty of Southwestern Oklahoma State University in fall 2013 where she currently serves as Ed & Winnie Ola Berrong Endowed Chair and Associate Professor of Music. Prior to her appointment at SWOSU, Martinson taught on the faculty of the Skidmore Summer Flute Institute and the Florida State University Summer Music Program and acted as Visiting Instructor of Flute and Chamber Music at Skidmore College. She is an elected board member of the Oklahoma Flute Society, past president of the Flute New Music Consortium, and formerly served as chair of the National Flute Association's (NFA) Career and Artistic Development Committee.
Martinson has recorded for the Blue Griffin label and for the Flute New Music Consortium's premiere self-published album of award winning FNMC works and commissions. She has performed with the Lake George Chamber Orchestra, Sinfonia Gulf Coast, Tallahassee Symphony Orchestra, Panama City Pops, and Muncie Symphony, among others, and appeared as a concerto soloist with the Lake George Chamber Orchestra, the Skidmore College Orchestra, SWOSU Symphony Orchestra, and the University of Akron Symphony Orchestra. Recent engagements include performances, master classes, and/or presentations at conferences sponsored by the NFA, Florida Flute Association, Flute Society of Kentucky, College Music Society, International Trombone Association, and Oklahoma Flute Society, as well as events at Florida State University, University of Oklahoma, Kansas State University, Oklahoma Baptist University, University of Akron, Northeastern Oklahoma State University, Cameron University, Oklahoma State University, and Malone University, among others.
Winner of the NFA's 2014 Graduate Research Competition, Martinson's scholarly and creative interests include historical performance and commissioning and premiering new works featuring the flute. She performs on Baroque flute and has commissioned or premiered more than 20 new works in the last decade. She earned her Doctorate of Music in flute performance with a certificate in World Music from Florida State University. She holds additional degrees in flute performance (MM), music history (MM), and music (BA) from the University of Akron and Skidmore College. Former teachers include Eva Amsler, Mihoko Watanabe, George Pope, Jan Vinci, and Wendy Matthews.