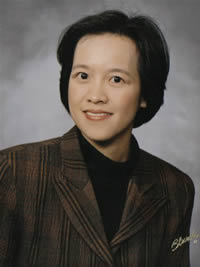 Professor, Director of Music Therapy
Department: Music
Office: Office: 131 Berrong Music Hall – Music Therapy Center
580.774.3218
Email
Dr. ChihChen Sophia Lee, Oklahoma State Licensed Professional Music Therapist (LPMT), Music Therapist-Board Certified (MT-BC), is the Director of Music Therapy at Southwestern Oklahoma State University, Weatherford, Oklahoma. Part of her duties have included teaching music therapy core courses, applied piano lessons, supervising student music therapists' clinical experiences, as well as providing music therapy services via the SWOSU Music Therapy Center.
Professionally active at the local, regional, national, and international levels, Dr. Lee has published, co-authored, and presented numerous papers as well as the Continuing Education for Music Therapists (CMTE) courses in peer-reviewed professional journals, books and other professional publications, and conferences in music therapy and expressive arts therapy. She has also been invited to provide professional consultations, workshops and in-service presentations for healthcare professionals and educators regionally and internationally, including serving on the Standards of Clinical Practice Committee and Academic Program Approval Committee of American Music Therapy Association (At Large Member), as the keynote clinical trainer for projects sponsored by the United Nation International Children Emergency Fund (UNICEF), and as visiting professor at international institutions such as the University of Taipei (formerly known Taipei Municipal University of Education), National Sun Yat Sun University of Kaohsiung, Taiwan, and Central Conservatory of Music of Beijing, China.
A graduate of University of Minnesota (Ph.D., M.A.) and Ohio University (B.M.), Dr. Lee's research interests evolve from Music Therapy Distance Education, human psychophysiological reactions and processes to music stimuli, international/multiculturalism in music therapy, and ethnomusicology. She also studied piano primarily with Alexander Braginsky, Richard Syracuse, Ming-Hsin Hsu, and Fu-Mei Liu, and remains pianistically active in studio teachings, adjudications, solo and collaborative performances. Clinically, Dr. Lee has worked at the long-term care facilities, hospice care services, Intermediate Care Facilities for adult with intellectual disabilities, midway houses/shelters for women, adolescents, and children experiencing domestic violence and substance abuse, educational institutions serving children/adolescents receiving early intervention, special education, and Alternative Education.
Office Hours
Tuesday
2 pm
Wednesday
11 am & 1 pm
Thursday
1 pm & 4 pm
Friday
11 am & 1 pm
Virtual office hours via e-mail or by appointments
Courses Taught
Course No.
Course Title
3113
Music Therapy II: MT in Mental Health/Illness
3123
Music Therapy IV: Psychology of Music
3181
MT Competencies and Professional Ethics
4011
Keyboard Improvisation for Music Therapists
4020
Senior Research Project
4182
Research and Statistics
4242 – 4
Music Therapy V
Applied Piano Lessons
5141
Music Therapy Clinical Supervision (Graduate)
5153
Advanced Theoretical Orientations & Clinical Techniques in Music Therapy (Graduate)
5221
Advanced Field Studies (Graduate)
5233
History & Contemporary Global/Cultural Issues in Music Therapy (Graduate)
5263
Legislative & Business Issues in Music Therapy Practices (Graduate)
5273
Advanced Music Therapy Improvisations and Song Writing (Graduate)
5283
Research in Music: Qualitative & Mixed Methods (Graduate)
5982
Thesis
Links