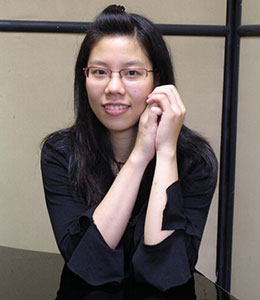 Instructor
Department: Music
Office: FAC 100
580.774.3209
Email
Shuo-Hui Sophie Hung, a Taiwanese born pianist, is the Assistant Professor of Piano at Southwestern Oklahoma State University since 2020. She has been the winner/finalist in numerous competitions, including Taipei Wind Orchestra Concerto Competition, the NTUE Concerto Competition, the KAWAI Youth Piano Competition, the Taiwan Chamber Music Competition, and UNT Concerto Competition.
As an active performer and collaborative pianist in the United States and Asia, Dr. Hung has been playing solo concertos with professional and university orchestras, such as Gershwin's Rhapsody in Blue with the Taipei Wind Orchestra and Symphonic Band, Prokofiev's Piano Concerto No.3 with the National Taipei University of Education Orchestra, and Beethoven's Piano Concerto No.5 with the Voice of Spring Symphony Orchestra. In 2014, she was featured as the soloist in the Lewisville Lake Symphony Orchestra International Chamber Series. In 2012, she was a participant pianist at the prestigious Aspen Music Festival. During the residency, she is featured as the solo pianist in the Spotlight concert series.
Dr. Hung is dedicated to music education. She is the coordinator of the annual Hubbard-Males piano competition, the annual Breckenridge piano competition, and the annual Young Musician Piano and String Concerto Competition. Her piano students have been winners of the SWOSU JAC competition and regional competitions. She is also a member of the MTNA and OMTA associations.
Dr. Hung studied with the renowned pianist Gustavo Romero and received her Doctor of Musical Arts in Piano Performance and Piano Pedagogy from University of North Texas.