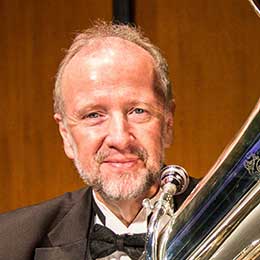 Instructor
Department: Music
Office:

Email
Vurl Bland after completing his bachelor's degree at Cameron University continued his studies at the University of North Texas in Orchestral Performance with Don Little with additional studies with Arnold Jacobs of the Chicago Symphony Orchestra. Mr. Bland was appointed Principal Tuba of the Cape Town Symphony Orchestra (CTSO) in Cape Town, South Africa in 1987.
In addition to his duties as Principal Tuba, Mr. Bland also served as the Orchestra Coordinator. During his tenure in Cape Town, he was a member of the Solid Brass Quintet and Intsholo – a brass and African percussion ensemble. As a member of the CTSO, Solid Brass and Intsholo, Mr. Bland toured South Africa on numerous occasions, performed at the Atlanta Olympics in 1996, toured Taipei, Taiwan, Oslo, Norway and the Canary Islands. As a soloist, he presented the first solo tuba recital tour in South Africa and appeared on four occasions with the CTSO. He also hosted "The Mostly Brass Show" on Fine Music Radio 101.3 for three years.
After 14 years in the CTSO, Mr Bland returned to the United States and settled in North Texas. Since his return, he has played with the Fort Worth Symphony Orchestra, Dallas Opera Orchestra, Tulsa Symphony Orchestra, Pavarotti Tour Orchestra, Andrea Bocelli Tour Orchestra, Shreveport Symphony, Nashville Symphony, East Texas Symphony, Longview Symphony, Texas and Dallas Wind Symphonies. Currently he is Principal Tuba for the Las Colinas, Garland and Arlington Symphonies and the Fort Worth Stock Show Rodeo Band. As an active chamber musician, he is a member of the Trinity River Dixie Kings, Classic Brass and Perennial Brass. Additionally, he is one half of "Why The Hell Not", a duo of Harp and Cimbasso.
Mr. Bland was a founding member of the Cape Town National Brass Congress and was involved with the Genesis Brass Project. He served as adjunct brass faculty at the South African College of Music at the University of Cape Town, was Tuba Instructor to the SADF Band, taught at the Beau Soleil and Hugo Lamperchts music centers and was Teaching Assistant at UNT. He has taught extensively as a private lesson /masterclass teacher in the Dallas/Fort Worth area. Currently, he is adjunct Tuba/Euphonium instructor at Texas Wesleyan University and Southwestern Oklahoma State University.