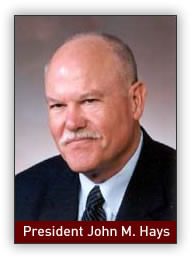 John Hays, a native of southwest Oklahoma, is the 16th president of Southwestern Oklahoma State University that has campus locations in Weatherford and Sayre.
Dr. Hays is a 1969 accounting graduate of Southwestern and served as Executive Vice President for Administration at SWOSU from 1990 until being named president of Southwestern in May, 2001.
He started his working career at Southwestern in 1972 as the university's assistant business manager. He served as comptroller starting in 1984 after a seven-year absence from Southwestern. In 1986, Dr. Hays became assistant to the president and was vice president for administration in 1989-90.
Dr. Hays earned a Master of Education degree in business from Southwestern and completed his Doctor of Education in higher education administration from the University of Oklahoma.
He has become active in community and economic development activities in western Oklahoma. Dr. Hays has been on the ground floor of many projects such as the Center for Economic and Business Development at SWOSU and other economic development activities in the Weatherford area.
The 1994 Leadership Oklahoma graduate has been very involved in civic activities, including Leadership Weatherford, YMCA, Vision 20/20, Weatherford Arts Council, Weatherford's senior citizen living center and many other projects through the Weatherford Area Chamber of Commerce, an organization he served as president in 1993. He is on the board of directors for the Oklahoma Community Institute, Great Expectations Foundation, Weatherford's Hospital Authority and several other organizations. He also served on the Weatherford School Board from 1985 to 1990.
Dr. Hays has won numerous awards and received the Sam Walton Business Leader Award in 1999. In 1996, he won the Outstanding Service Award from the Weatherford Area Chamber of Commerce. He was named to the Weatherford Hall of Fame in 2004.