History Club
This student-run organization is open to all students. The purpose of this club is to connect students that have an interest in history and provide an environment that fosters a greater appreciation for history. Throughout the semester, History Club holds "historical movie nights" and takes trips to historical sites.
Phi Alpha Theta

This in the American honor society for undergraduate, graduate students, and professors of history. Nationally, the society has over 400,000 members, with some 9,000 new members joining each year through 970 chapters nationwide. SWOSU's Xi Omicron chapter of Phi Alpha Theta inducts new members who meet the academic requirements each semester. Our chapter attends the Regional Phi Alpha Theta conference each year, attends the National conference every other year, and takes an annual trip to visit historical sites in the United States.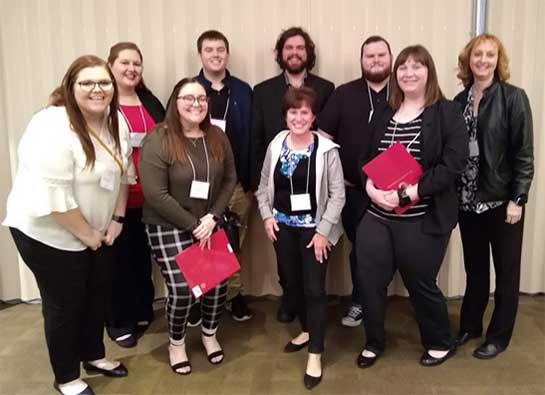 Congratulations to Aaron Cornell who won 2nd place Undergraduate Research Paper in World History!
Traveling to Academic Conferences
Why?
Academic conferences are usually annual events where faculty and students gather to discuss their research. Conferences can be national or regional, broad or topic-specific. Papers or projects you develop in class can be presented to audiences with the assistance of your professor.
If you considering graduate school, working in museums, with the public, or law school, it's a great way to work on presentation skills.
Where?
Every year, Phi Alpha Theta members attend the regional Phi Alpha Theta conference here in Oklahoma. The group also attends the national conference every other year in various cities across the United States.
How?
Check with your professor or advisor for information on upcoming conferences. We can often provide funding for student research activities.