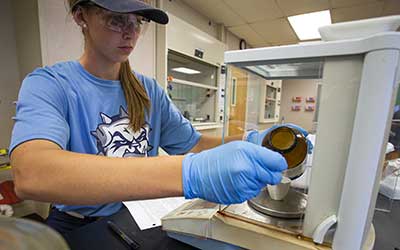 What is Chemistry?
Chemistry is known as "the central science" due to the reliance of biology, physics, engineering, and other disciplines on chemical knowledge. The BA in chemistry offers great flexibility in careers in any of the disciplines where chemistry knowledge is required. This option also best allows a student blend chemistry with a second major.
Why Study Chemistry at SWOSU?
The 14-member, all Ph.D. faculty offers specialized expertise at all levels of instruction, and opportunities to do cutting-edge, publishable research as early as your first year. Moreover, our family-like atmosphere provides the assistance and encouragement that will help you succeed. Graduate schools, corporations, and government agencies all actively recruit our majors, while others find tremendous success in professional school. Many of our BA graduates work in labs supporting the Oklahoma petroleum or biomedical industries.