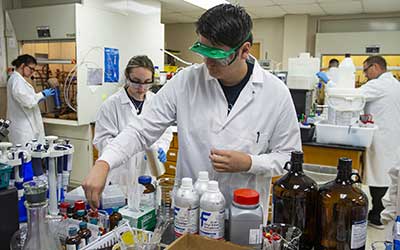 What is Chemistry?
Chemistry is known as "the central science" due to the reliance of biology, physics, engineering, and other disciplines on chemical knowledge. The BS-Professional in chemistry offers the strongest preparation SWOSU can offer for a career specifically in chemistry. An extensive background in all major areas of chemistry: Inorganic, Organic, Analytical, Biochemical, and Physical is recognized by the American Chemical Society, which accredits this degree, giving it specific approval as the best preparation a chemist can have.
Why Study Chemistry at SWOSU?
The 14-member, all Ph.D. faculty offers specialized expertise at all levels of instruction, and opportunities to do cutting-edge, publishable research as early as your first year. Moreover, our family-like atmosphere provides the assistance and encouragement that will help you succeed. Graduate schools, corporations, and government agencies all actively recruit our majors, while others find tremendous success in professional school. Most of our BS-Professional graduates want to future leaders in the chemistry discipline and/or pursue research careers to further the bounds of chemical knowledge. Thus, they often go on to advanced training (Masters or PhD) in Chemistry or other closely related graduate programs.