President's Leadership Class
2021-2022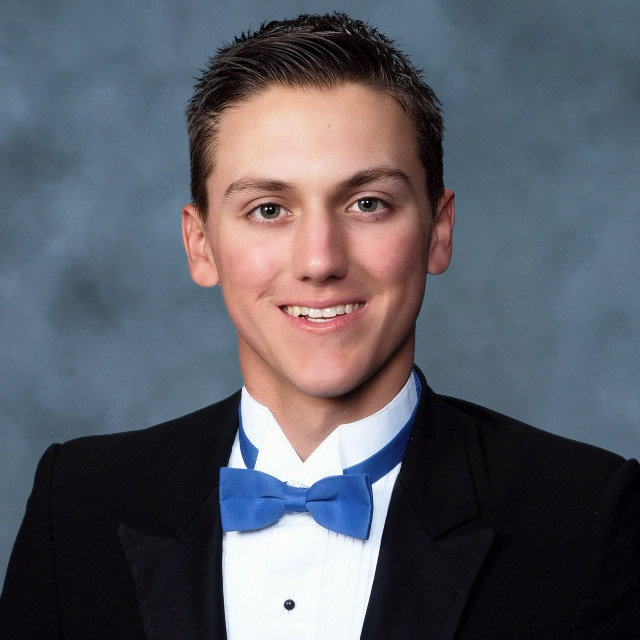 Jake Biddy
Jake Biddy graduated as the Valedictorian from Fort Cobb-Broxton High School class of 2021. He was an active member of the National Technical Honor Society, Oklahoma Honor Society, Superindendant's Leadership Academy, Academic Team, Gifted & Talented, FIRST Robotics, varsity basketball and baseball and he was the recipient of the Masonic Student of Today award. Jake was also a two-time State Champion, winning his first during his freshman year in basketball, and his second his senior year in baseball. Jake also attended the Caddo Kiowa Technology Center's Pre-Engineering program, where he was class president and studied in the many fields of Engineering. He also attended Redlands Community College as a concurrent student, where he completed 24 college credit hours. Jake is an Engineering Technology major who plans to pursue a career as a Mechanical Engineer.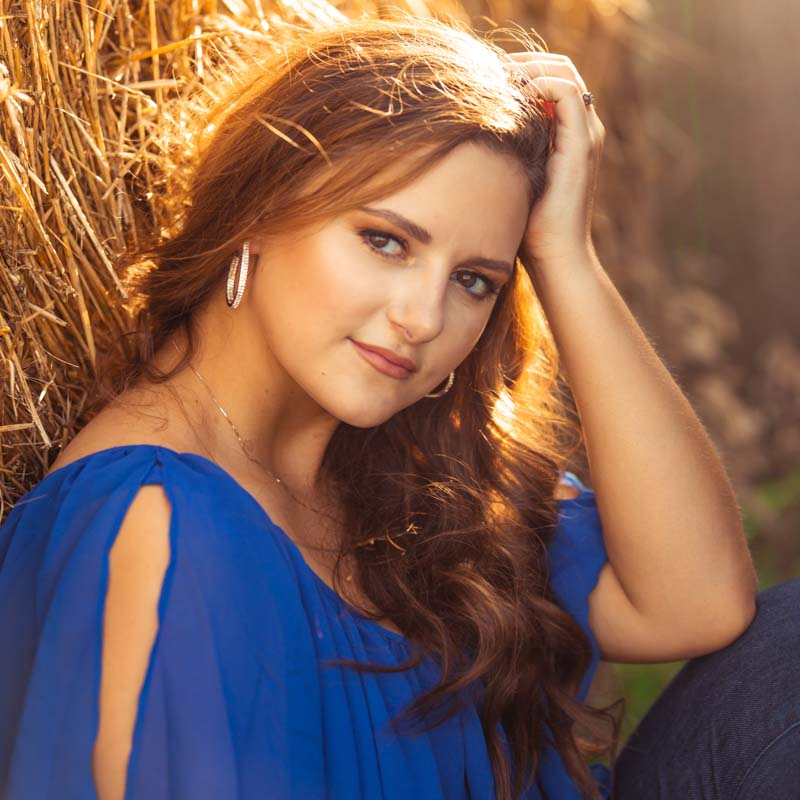 Kaysa Carpenter
Kaysa Carpenter graduated in 2021 from Corn Bible Academy where she was involved in Volleyball, Basketball, and softball. She participated in various organizations including Choir, Yearbook, and STUCO. She held many leadership roles as President of her senior class, Vice-President of STUCO, Choir Treasurer, and Junior class treasurer. Some awards she has been recognized for are VYPE-MVP for volleyball and qualifying multiple times for state solo and ensemble. For the past 12 years she has been involved and an advocate for the Cure JM Foundation. Kaysa is a double major in Agri Business/Marketing with a minor in Finance. She hopes to someday run her own business or be employed in a bank.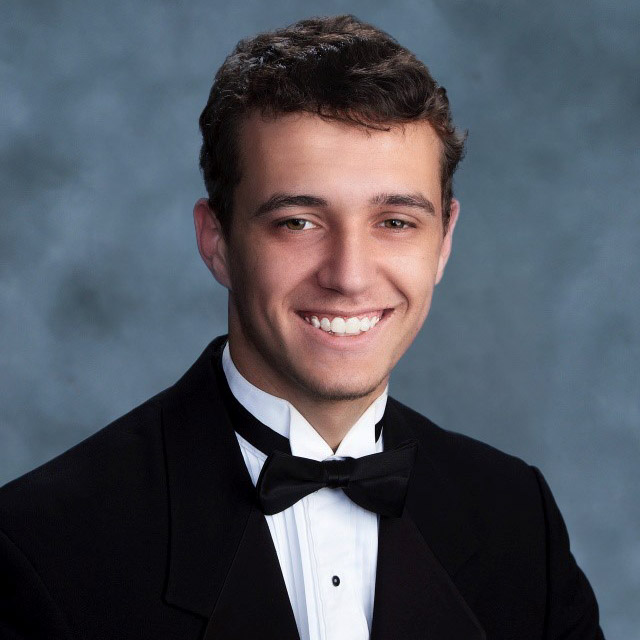 Lance Carter
Lance Carter is a 2021 graduate from Snyder High School. He was actively involved in basketball, baseball, track, and academic team, while being named to the OCA Academic all-state. He enjoys fishing and spending time with friends during his free time. He is majoring in manufacturing engineering.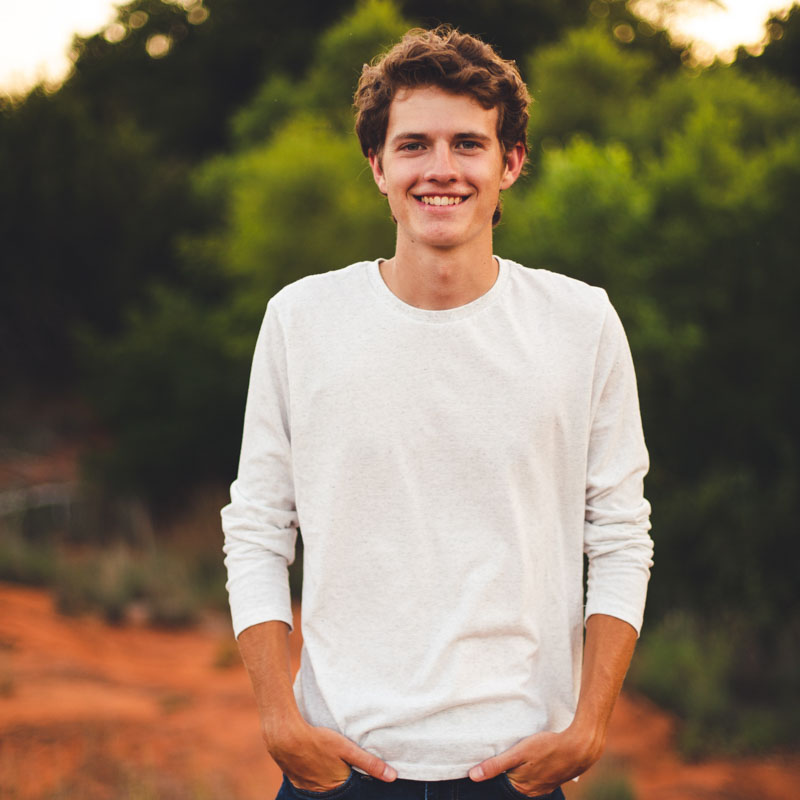 Grant Christian
Grant Christian is a 2021 graduate from Weatherford High School. Grant was a part of the Student Council as Treasurer his Junior year and Vice President his Senior year. Grant graduated as a distinguished scholar and is a member of First Baptist Church of Weatherford. Grant was a member of the Track and Field and Cross Country teams all four years of High School. He enjoys spending time with friends and family, photography, and running. His current plan is to graduate from SWOSU with a degree in Criminal Justice.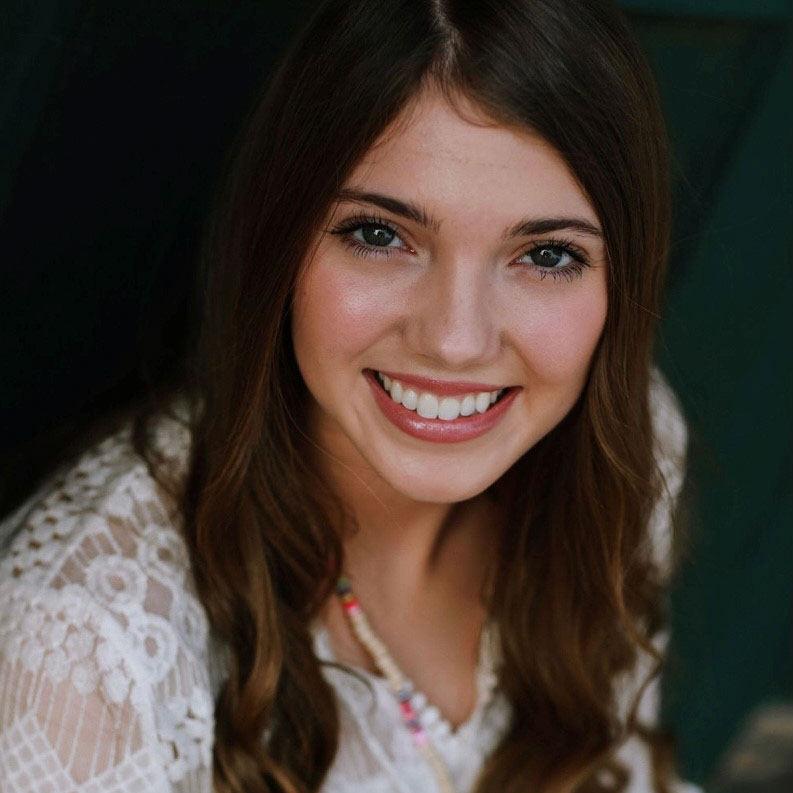 Abigail Harmon
Abigail Harmon graduated from Hobart High School in 2021. Abigail was the salutatorian of her class and graduated with honors. She was involved in National Honor Society, Junior Main Street, Student Council, FTA, FCA, AP Club, Math Club, track, and cheerleading. She was also awarded as a Regent Baccalaureate Scholar. At SWOSU, Abigail is involved in SGA, PLC, Honors College, and is a SWOSU cheerleader. Abigail is majoring in Accounting with a minor in Management. She hopes after graduation to pursue a Master of Business Administration. GO DAWGS!!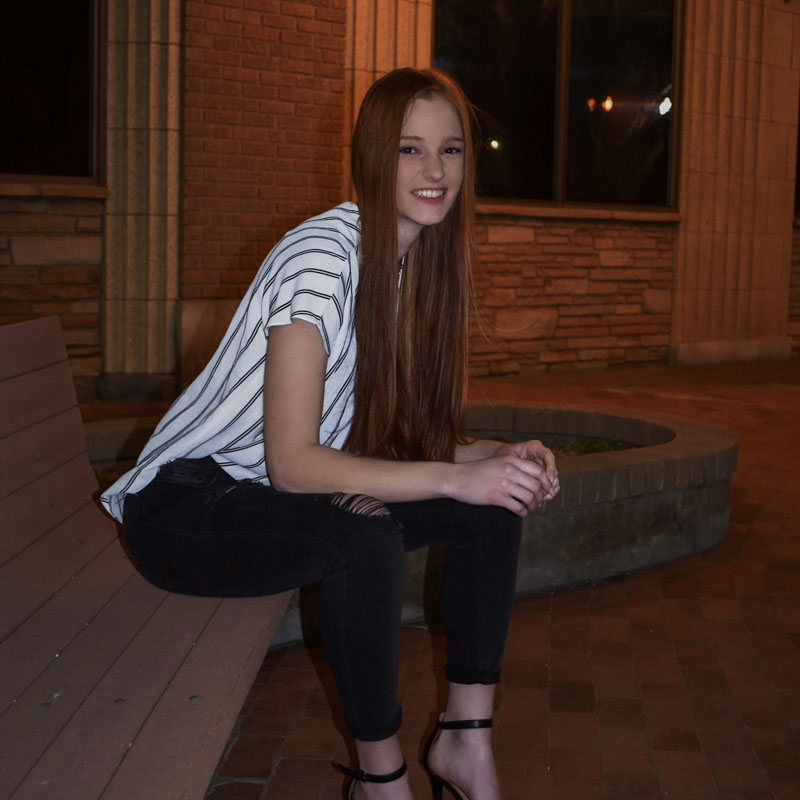 Zylee Ipson
Zylee Ipson graduated as Valedictorian from Turpin High School in 2021. She stayed very involved throughout high school in numerous sports and clubs. She also earned 3 state championships and 1 runner-up title in Game Day Cheerleading. In her senior year, she was a softball player, cheerleader, Vice President of Student Council and FCA, and took part in planning Turpin's first color run in honor of the late Jan Foster. Zylee is currently majoring in nursing and is a cheerleader at SWOSU.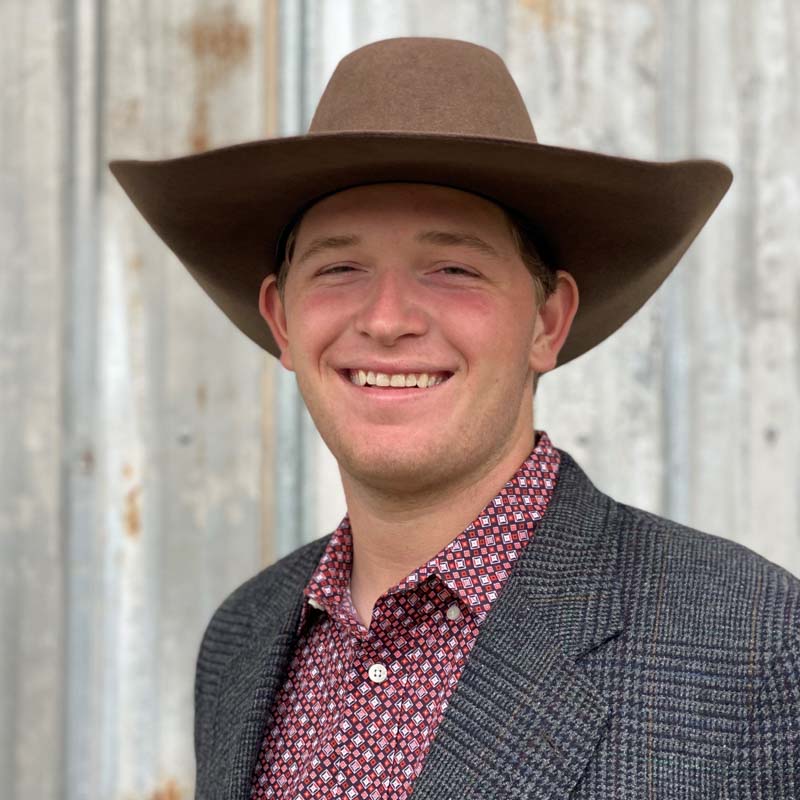 Cooper Massey
Cooper Massey graduated in 2021 from Adair High School with a certificate of distinction. Cooper was involved in FFA and FCA, and was an officer for the Adair FFA for two years. Cooper received his State FFA degree in 2021, and has qualified for the National FFA Horse Judging contest after winning High Point individual and being on the first place overall team at the State Judging Contest. Here at SWOSU, Cooper is a Math Education major and a member of the SWOSU Rodeo Team. After college, Cooper plans to go back to his hometown and teach high school level math classes.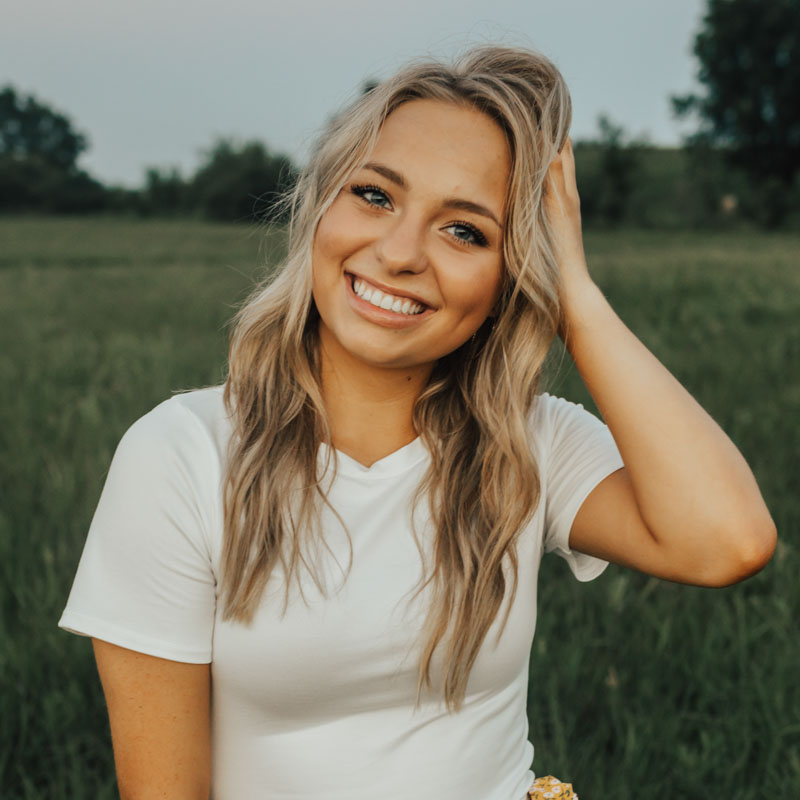 Madison Meacham
Madison Meacham is a 2021 graduate from Hydro-Eakly High School. During her high school career, she was involved in the National Honor Society, Student Council, and cheer. She was also vice president of her class and an All-Star Cheerleader. Madison is majoring in biomedical sciences and plans to become a physician assistant.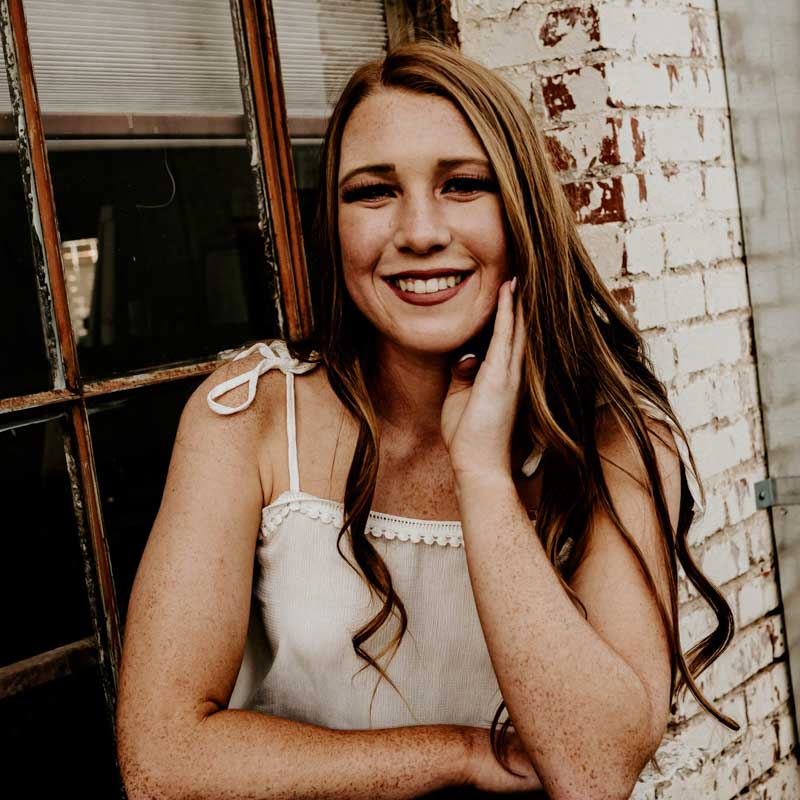 Megan Mills
Megan Mills is a 2021 graduate from Weatherford High School. She was a distinguished scholar and graduated with honors. Throughout high school she served as treasurer, secretary, and president of Student Council, and served as secretary of National honors society her senior year. She was a unified partner with the Special Olympics and fan in the stand all four years of high school. Megan was also a varsity softball player, receiving an all-region outfielder award, and was a member of Weatherford High School's leadership lab. She is pursuing a degree in Health Science with hopes of becoming a pediatric Physician's Assistant. Go Dawgs!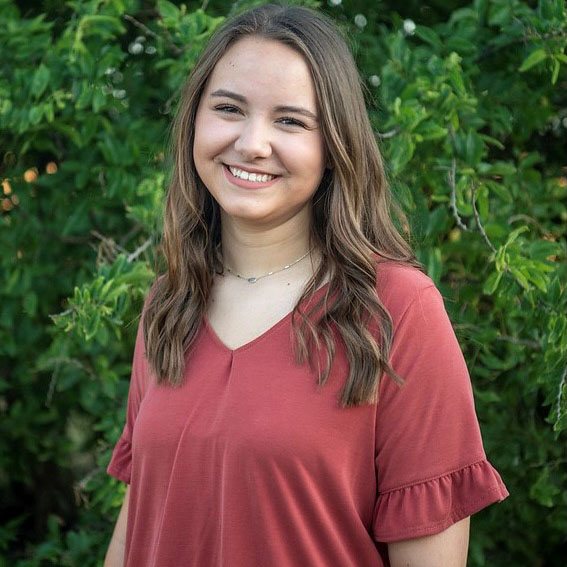 Rachel Mitchell
Rachel Mitchell graduated in the top of her class at Frederick High School in 2021 with honors. She was her class secretary as well as being involved in Student Council, Spanish Club, FFA, Yearbook, Big Topics, National Honor Society, and Oklahoma Honor Society. She was extremely active in 4-H where she was the Tillman County President and the West District Representative on the State Council. She also won the most prestigious award you can win in 4-H being named into the State 4-H Hall Fame. As well as winning the Clara Berry Award for Excellence at Frederick High School and her Sate FFA Degree. She is an Early Childhood Education major and plans to become a first-grade teacher./p>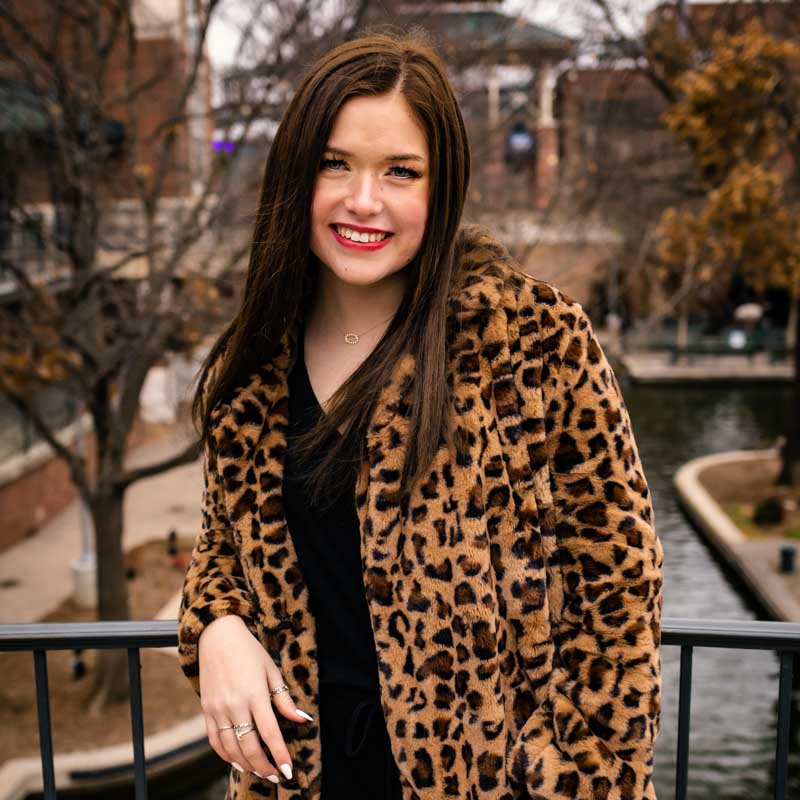 Abbie Moses
Abbie Moses graduated as Valedictorian of the Weatherford High School class of 2021. She was actively involved in FCA, National Honors Society, Spanish Club, and Student Council. Abbie played softball and basketball and was named an FCA All Star and All Region softball player. She was also involved in the youth at First Baptist Church of Weatherford and loves FBC's college group. Abbie is currently a math education major with hopes of becoming a high school algebra teacher and a softball coach. Go Dawgs!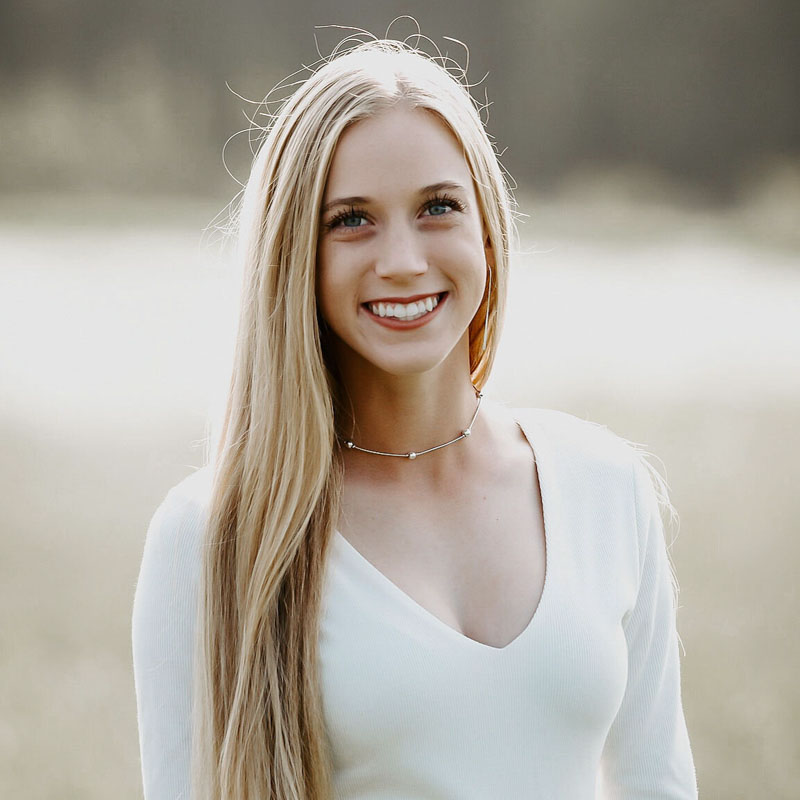 Jadyn Nunley
Jadyn Nunley graduated in 2021 as a valedictorian from Sterling High School. Throughout high school, she was involved in FFA, FCCLA, FCA, National Honor Society, Gifted and Talented, softball, basketball, and track and field. Every year during fastpitch season, Jadyn and her team qualified for the state tournament. Jadyn was also vice president of her graduating class and an FCA Leadership Team member. She received her State FFA Degree and also received Student of the Year award during her high school career. Outside of school, she was involved in her church as a Youth Leadership Team member and volunteered many hours through her church at mission trips and mission opportunities. She enjoys family time, rodeos, playing sports, and living her life for Christ. At SWOSU, she plans to earn a degree in Pharmacy. Go Dawgs!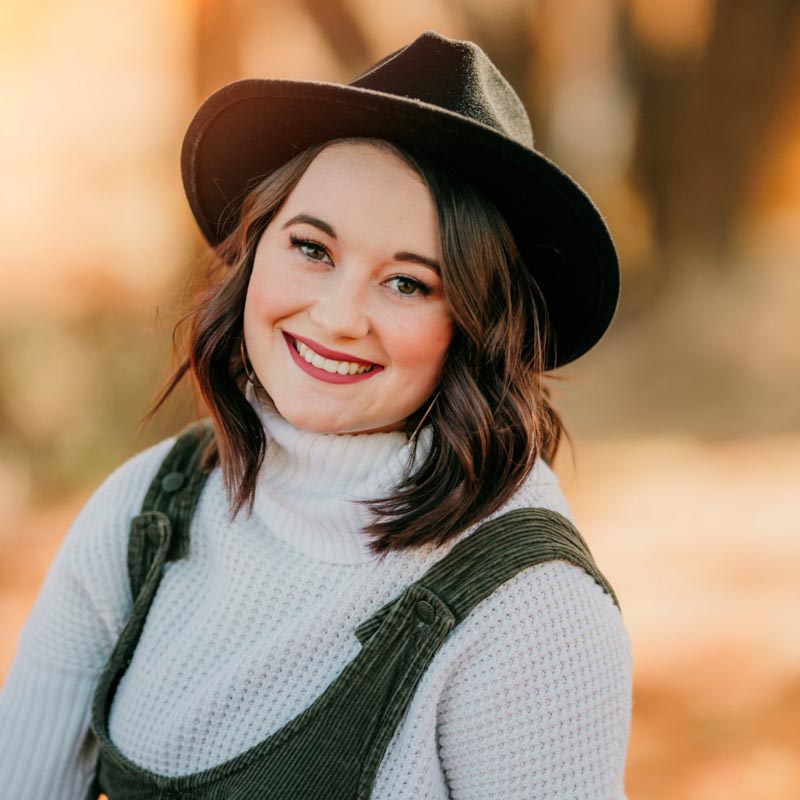 Hannah Strickler
Hannah Strickler is a 2021 graduate of Weatherford High School. She was valedictorian of her class and graduated with honors. During her high school career, she was nominated an Oklahoma Honors Society member, Superintendent's Honor Roll member, Key Club President, Girls State Delegate, SWOSU Academic Achievement Award Recipient, John Hays Memorial Scholarship Recipient, and a CK Energy Scholarship Recipient. She was also involved in organizations such as Student Council, National Honor Society, honor choir, and Leadership Lab. Hannah is currently majoring in Applied Health Sciences and is working towards becoming a Pediatric Occupational Therapist Assistant. While at SWOSU, Hannah is involved in President's Leadership Class, Student Government Association, Sigma Phi Lambda, and Collegiate Farm Bureau.
Tess Tracy
Tess Tracy graduated from Stillwater High School as a valedictorian of her class. She served as co-executive director of Stillwater Makes a Change, a student-led philanthropic organization, as well as a class officer. She played volleyball for Stillwater and competitively. Other organizations she was involved in include National Honor Society, Beta Club, Peer Advocate, Student Council, and Fellowship of Christian Athletes. She plans to study Mathematics and Accounting at SWOSU.
Audrey Christian - Weatherford High School
Shania Do - Oklahoma School of Science and Mathematics
Victor Do - Community Christian School
Morgan Duckwall - Newcastle High School
Alisa Friesen - Arnett High School
Brody Hedges - Seiling High School
Natalee Karcher - Greenwood High School
Jake Kimmel - Yukon High School
Natalie Kinder - Arapaho-Butler High School
Matalea Maddox - Elk City High School
Kylee Massey - Adair High School
Ashtyn McAdoo - Piedmont High School
Cassidy Moses - Weatherford High School
Jillian Schneberger - Canute High School
Shylar Thornton - Elk City High School
Alexa White - Woodward High School
Amy White - Tipton High School
Brooke Bonny - Yukon High School
Jaycie Brown - Chickasha High School
Jimmie Dollins - Altus High School
Trey Gooch - Putnam City West High School
Amber Griffin - Bethany High School
Brendan Harrison - Elk City High School
Meghan Howser - Okemah High School
Colby Karcher - Greenwood High School
Devyn Metcalf - Elk City High School
Shayla Miller - Woodward High school
Ashlin Murray - Clinton High School
Leticia Ortiz - Clinton High School
Jakob Smith - Durant High School
Hannah Wingo
Jake Zickefoose - Glenpool High School
Kamuela Ahuna - Bray-Doyle High School
Briley Baca - Clinton High School
Terrin Brownen - Weatherford High School
Rachel Cook - Carl Albert High School
Jacob Cope - Altus High School
Natanya Hernandez - Edmond Santa Fe High School
Luke Jenkins - Cashion High School
Bryannah Jannings - Weatherford High School
Kaci Pennington - Kingfisher High School
Morgan Phelps - Fox High School
Shayne Thornton - Elk City High School
Brecken Waitman - Tuttle High School
Summer Wald - Hobart High School
Bryce Wolters - Clinton High School
Abel Abame - Stillwater HIgh School
Gage Bouziden - Alva High School
Darby Bryce - Bridge Creek High School
Ben Ervin - Weatherford High School
Kylee Ezell - Southwest Covenant High School
Ashlee Fryer - Frederick High School
Shawnee Jones - Chickasha High School
Rachael Lamar - Elk City High School
Brandon Lewis - Clinton High School
Taylor Lewis - Piedmont High School
Manuel Martinez - Moorpark High School (Moorpark, CA)
Kelsey Nadeau - Lawton High School
Tate Odam - Tuttle High School
Mason Pitts - Ripley High School
Braden Sweet - Perry High School
Marshall Wallace - Piedmont High School
Kalley Watkins - Oklahoma Bible Academy
Bryce Butcher - Elk City High School
Elisa Cornell - Thomas-Faye-Custer High School
Jake Gregston - Duncan High School
Matalyn Haney - Leedey High School
Mikayla Harrison - Elk City High School
Peyton Isbell - Waukomis High School
Taryn Karlin - Weatherford High School
Chase Lott - Ada High School
Kennady Nance - Navajo High School
Morgan Price - Cordel High Schooll
Brooke Rankin - Elgin High School
Maybree Rittenhouse - Lawton High School
Tiler Rose - Weatherford High School
Kaity Shoaf - Woodward High School
Justin Tharp - Thomas-Faye-Custer High School
Brady Boyd - Weatherford High School
Tanner Boyd, Weatherford High School
Ashlee Butler - Fort Cobb-Broxton High School
Luke Carpenter - Hammon High School
Claire Chandler - Latta High School
Ashlen Franklin - Canute High School
Makenzy Hamon - Piedmont High School
Savannah Hearn - Cache High School
Alex LaBossiere - Ponca City High School
Austin Loomis - Deer Creek High School
Dossanna Miller - Fairview High School
Caylie Patton - Tecumseh High School
Conner Patton - Tecumseh High School
Selene Salazar - Miami, OK
Grant Scowden - Poteau High School
John Seifried - Seiling High School
Alfa Abame - Stillwater High School
Miranda Balenzentis - Bishop Kelley High School
Erin Benton - Mustang High School
Blake Blanchard - Deer Creek High School
Brady Burdick - Balko High School
James "Ryley" Claborn - Bethany High School
Jaylen Flynn - Watonga High School
Sawyer Johnston - Sayre High School
Brian Lewis - Clinton High School
Lauren Parenica - Moore High School
Madison Rittenhouse - MacArthur High School
Jay Stinson - Weatherford High School
Jordan Thompson - Cordell High School
Jesse Wald - Hobart High School
Kelsey Watkins - Oklahoma Bible Academy
Keegan "Alex" White - Norman North High School
Matt Abbot - Anadarko, OK
Brett Atkins - Zagreb, Croatia
Trent Brownen - Lindsay, OK
Catherine Fulton - Weatherford, OK
Ben Justus - Comanche, OK
Taylor Kincanon - Weatherford, OK
Mackie Lockhart - Clinton, OK
Tanner Miller - Enid, OK
John Moriarty - Katy, TX
Jerrad Richards - Ripley, OK
Lauren Robinson - Oklahoma City, OK
John Srader - Shattuck, OK
Joseph Wald - Hobart, OK
Chelsea Ankney - Clinton, OK (Clinton High School)
Blaine Boyd - Weatherford, OK (Weatherford High School)
Taylor Boyd - Weatherford, OK (Weatherford High School)
Karlea Brooks - Guymon, OK (Guymon High School)
Samantha Carson - Elk City, OK (Elk City High School)
Rachel Denison - Idabel, OK (Idabel High School)
Jennifer Fischer - Weatherford, OK (Weatherford High School)
Cord Gothard - Velma, OK (Velma-Alma High School)
Kody McKay - Rush Springs, OK (Rush Springs High School)
Quynh Phi - Oklahoma City, OK (OKC Southeast High School)
Will Robinson - Canton, OK (Canton High School)
Taler Sawatzky - Weatherford, OK (Weatherford High School)
Caitlin Carter - Elk City, OK (Sayre High School)
Cash Cooper - Lindsay, OK (Lindsay High School)
Corbin Dickerson - Altus, OK (Altus High School)
Kayla Fritz - Cache, OK (Cache High School)
Jemi Hancock - Hobart, OK (Hobart High School)
Katie Lindamood - Weatherford, OK (Weatherford High School)
Alicia Marquis - Weatherford, OK (Weatherford High School)
Tyler Overton - Cordell, OK (Cordell High School)
Jamie Rice - Minco, OK (Minco High School)
Ryan Roulet - Clinton, OK (Clinton High School)
Rachel Tucker Thomas - Jones, OK (Jones High School)
Trevor Brownen - Minco, OK (Minco High School)
Brenna Cary - Hollis, OK (Hollis High School)
Clint Dismore - Miami, OK (Miami High School)
Kaleb Fischer - Weatherford, OK (Weatherford High School)
Jacob Fuller - Blanchard, OK (Blanchard High School)
Whitney Hamar - Fairview, OK (Fairview High School)
Keenan Haught - Elk City, OK (Elk City High School)
Alyssa Holt - Sentinel, OK (Sentinel HIgh School)
Lauren Kehl - Cordell, OK (Cordell High School)
Caleb Koos - El Reno, OK (El Reno High School)
Riley McCallay - Hammon, OK (Hammon High School)
Justin Simpson - Antlers, OK (Antlers High School)
Jordan Stewart - Fairview, OK (Fairview High School)
Bryan Wilkes - Oklahoma City, OK (Westmoore High School)
Jonathan Zoschke - Thomas, OK (Thomas-Fay-Custer High School)
Kent Abernathy - Cordell, OK (Cordell High School)
Madison Cabaniss - Arapaho, OK (Arapaho High School)
Allen Deak - Mustang, OK (Mustang High School)
Tyler Deckard - Yukon, OK (Yukon High School)
Kaisa Fischer - Weatherford, OK (Weatherford High School)
Courtney Garcia - Navajo, OK (Navajo High School)
Pamela Hough - Clinton, OK (Clinton High School)
Joice Jose - Oklahoma City, OK (Putnam City High School)
Neal Kennedy - Calumet, OK (Calumet High School)
Lindsey Liebscher - Hydro, OK (Hydro-Eakly High School)
Courtney McElroy - Frederick, OK (Frederick High School)
Jordan Pettitt - Bethany, OK (Bethany High School)
Haley Wilson - Clinton, OK (Clinton High School)
Sarah Yates - Mangum, OK (Mangum High School)
Evan Brooks - Elk City, OK (Elk City High School)
Whitney Finch - Cordell, OK (Cordell High School)
Baxter Stewart - Fairview, OK (Fairview High School)
Carissa Fischer - Weatherford, OK (Weatherford High School)
Cory Maupin - Elk City, OK (Elk City High School)
Jacob Pool - Clinton, OK (Clinton High School)
Kayla Hart - Lawton, OK (Lawton MacArthur High School)
Keri Ledbetter - Oklahoma City, OK (Westmoore High School)
Kristen Kaufman - Bedford, TX (Euless Trinity High School)
Lauren Wimberly - Mustang, OK (Mustang High School)
Lyndsey McPherson - Washington, OK (Washington High School)
Reggy Yount - Hobart, OK (Hobart High School)
Sarah Sullins King - Granite, OK (Granite High School)
Patricia Daniels - Cheyenne, OK (Cheyenne High School)
Jasmine Turner - Oklahoma City, OK (Westmoore High School)