Welcome to the Department of
Art, Communication and Theatre
Want to do something more with your creative side? At SWOSU, you will work alongside professionals in the industries of art, communication and theatre to develop and challenge your artistic mind.
Build your skills in problem-solving, free thinking, communication and teamwork at SWOSU! We are committed to inspiring the next generation of game-changers in the art, communication and theatre world.
"Every artist was first an amateur." ~ Ralph Waldo Emerson
Degrees Offered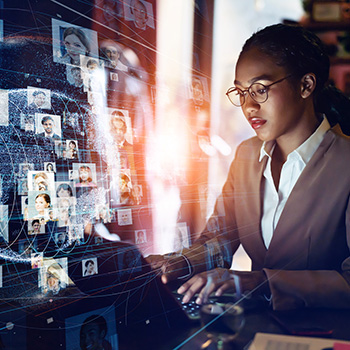 SWOSU's programs in art, communication and theatre are some of the best in the region. Our graduates are prepared to work in fine arts, design, media, retail, production or curating. SWOSU's distinguished faculty is committed to providing our artistic-minded students with skills and knowledge of today's creative tools and techniques. This skill set is coupled with a traditional academic emphasis to give our students a w. We take pride in educating Oklahoma's next generation of artists, actors, producers, designers and communicators.
Arts Degrees
Communication & Theatre Degree
Speech Communication Emphasis
Theatre Emphasis
---
Career Outlook for Art,
Communication & Theatre Majors
Why Major in the Arts?
The arts help keep civilization civilized... and on a more personal level, a career in the arts can benefit your pocketbook as well as your visionary soul. According to the nonprofit organization Americans for the Arts, the arts and culture industry creates about 4.6 million jobs every year in this great nation of ours. What that means for you is that your talent and your skills are marketable in today's economy. Book design, illustration, graphic design, creative writing, performance art, etc., are all good choices for SWOSU graduates with art degrees.
Why Major in Communication?
Communication is the key. You've heard it. I've heard it. See where I'm going here? Good communication is essential in every industry. A communication degree from SWOSU will allow you to build awareness of how to communicate effectively to diverse audiences. Strong communication skills are essential in order to provide definition, clarity and resonance to your organization's goals, and to present your organization and its services or products in the best and clearest way possible to your target audiences.
Do you enjoy imaginative, visionary, original work? Then a degree in art from SWOSU could be just the right choice!
An art degree can lead to a career as an art director, film & video editor, graphic designer, industrial product designer, marketing manager, multimedia, artist/animator, studio artist, painter, print maker, sculptor, ceramic artists, fiber artist, etc.
What's more, training in the arts has tremendous potential in the workforce because it has highly transferrable skills needed for several careers. Art graduates have solid observational, analytical and research skills, as well as the ability to solve problems effectively and creatively.
If options and diversity are your thing, then a degree in communication arts is definitely worth considering. The potential to apply the skills you learn at SWOSU to almost any field is limitless.
Graduates of the program can find careers in marketing, advertising, human resources, public speaking, mediation services, travel and tourism, research, just to name a few.
Talk about a wide-range of career choices! Your degree in communications arts from SWOSU can open doors you never imagined possible.
The theatre program at SWOSU presents a blend of specialties in the field of performing arts and is an excellent starting point if you are interested in a career in theatre.
From acting to design, you will experience all facets of the theatre world while pursuing a theatre degree at SWOSU.
Your theatre degree will open doors for you to hone your acting chops in a variety of settings from the big screen to the small stage.
Graduates can find work as a theatre manager, high school speech teacher, university professor, sound technician, lighting technician, theatre director, script writer, arts administrator, film director, language arts teacher and actor.