Kappa Kappa Psi
NATIONAL HONORARY BAND FRATERNITY
Epsilon Epsilon Chapter of SWOSU
We, the brothers of Kappa Kappa Psi, believe that service to the college or university band program fosters responsibility, loyalty, and leadership; that a spirit of brotherhood is enhanced by the participation in a band program; that music is a universal language and truly the greatest of the arts; and that through fraternal participation, each member will strive for the highest.
Kappa Kappa Psi is a fraternal organization that promotes the advancement of college and university bands through dedicated service and support to bands; comprehensive education; leadership opportunities; and recognition; for the benefit of its members and society.
Kappa Kappa Psi was first established on the campus of what is now Oklahoma State University in Stillwater on November 27, 1919. The fraternity serves the college and university bands and has grown to serve over 250 college and university campuses nationwide.
The Epsilon Epsilon Chapter of SWOSU was installed as the 125th Chapter of the Fraternity on May 26, 1967, under the leadership of Ray Bell, Randy Hurst, Truett Guthrie, Lynn Ray Leonard, Bob Mills and several others. These 26 men started what has become a staple tradition at Southwestern Oklahoma State University. SCHEWOSTEOPLE, SIR!, Epsilon Epsilon's mascot was presented to them by the Alpha Chapter from Stillwater.
The Epsilon Epsilon Chapter at SWOSU provides scholarship money to outstanding college and high school band musicians, holds social activities for the bands, as well as repairing, providing, and moving equipment for every instrumental group performance. As the main fundraiser, the Epsilon Epsilon chapter operates the "Sound Explosion" DJ service which caters to the needs of any party, wedding, birthday, etc.
Kappa Kappa Psi's Vision: With a dedicated spirit of unity and cooperation, we are unequivocally committed to become the world standard of excellence for band fraternal organizations.
Mu Phi Epsilon
Mu Phi Epsilon is an international professional music fraternity. Persons are selected for membership according to their achievements in scholarship, musicianship, character, and personality. Its goals are to promote scholarship, musicianship, loyalty to the Alma Mater, and to develop true friendship and the advancement of music in America and throughout the world. Note that SWOSU is home to an alumni chapter of Mu Phi Epsilon only.
National Association for Music Education

The National Association for Music Education (NAfME) is an organization of American music educators dedicated to advancing and preserving music education as part of the core curriculum of schools in the United States. The organization functions regionally through federated state associations: one representing each of the fifty states, the District of Columbia, and a single affiliate for Europe.
The SWOSU Collegiate Chapter (abbreviated CNAfME) operates under the Oklahoma Music Educators Association (OkMEA).
Phi Mu Alpha
"Mighty" Tau Phi Chapter

Phi Mu Alpha Sinfonia is the world's oldest and largest secret national fraternal society in music. Sinfonia was born on October 6, 1898, at the New England Conservatory in Boston, when a group of thirteen young men under the guidance of Ossian Everett Mills "to consider the social life of the young men students of that institution [and] to devise ways and means by which it might be improved." Sinfonia became a national fraternity on October 6, 1900, with the admission of a group of men at the Broad Street Conservatory in Philadelphia. For over a century, Sinfonians in nearly every field of study and professional endeavor have transformed music in America. The opportunity of becoming a Sinfonian is offered to as many men as possible who, through a love for music, can assist in the fulfillment of the Fraternity's Object and ideals either by adopting music as a profession, or by working to advance the cause of music in America.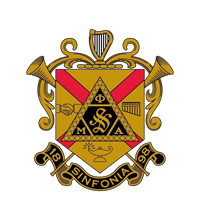 Sinfonia's chief purpose is to develop Fraternity in music; to uphold the highest standards in music; to inspire musicians to be better men. Sinfonia is a moment for the betterment of mankind and a champion for the power of music.
The "Mighty" Tau Phi Chapter was established on May 16th, 1968 here at Southwestern Oklahoma State University. Our chapter has a history of excellence within Province 8 (Oklahoma) and the nation. Alumni from our chapter have gone on to become successful music teachers, pharmacists, musicians, business men, and contributing members of society. We sponsor and participate in many activities throughout the year in the music department, on campus, and in the community, including our annual Week of American Music which highlights American music in all types of variety and genre. We abide by the Object of the Fraternity which states:
"The Object of this Fraternity shall be for the development of the best and truest fraternal spirit; the mutual welfare and brotherhood of musical students; the advancement of music in America, and a loyalty to the Alma Mater."
Tau Beta Sigma
Tau Beta Sigma is a national honorary band sorority. The sorority works to stimulate leadership, to honor outstanding band members through membership, and to develop an appreciation for the best in music. Membership in the Gamma Phi chapter at SWOSU is open to students who have completed at least one semester of band.
Music Therapy Student Association (MTSA)
Mission Statement
"To promote the discipline of music therapy by spreading the knowledge of music therapy among the student body at Southwestern Oklahoma State University and in the surrounding community, to enrich SWOSU music therapy students education, to provide op opportunities for career development, and to encourage and create unity through fellowship among its members."
Activities
In addition to providing music therapy services to the community via supervised Field Studies, MTSA members are active in Special Olympics, SWOSU student research events, regional & national professional organizations (ex. SWAMTAS/AMTAS)/conferences, community services (ex. Christmas caroling/sing-along), student recruitment, and organizational fundraising events.
Sigma Alpha Iota
Sigma Alpha Iota (SAI) is an international music fraternity whose purpose is to nurture and support the art of music. The mission of SAI is in part to encourage and assist women musicians of all ages, races, and nationalities. The group seeks to cultivate excellence in musical performance, and in the spirit of the Sigma Alpha Iota founders, its members exemplify professional and ethical behavior. As a service organization, SAI promotes programs and activities that stress the love and importance of music, and supports the SWOSU music department in its activities and events.