Mission Statement
The Vision
We are a dynamic, student-centered leader in nursing education.
The Mission
Our mission is health promotion, restoration and maintenance for all society through education of professional nurses, evidence-based practice, and service.
We are an established entity within the SWOSU College of Professional and Graduate Studies (CPGS) and subscribe to the stated mission of SWOSU regarding teaching, professional growth, and service. We offer professional education to meet the changing healthcare needs of society and recognize the interrelationship between teaching, service, the dynamic process of adult learning, and the practice of nursing. The faculty endeavor to provide an environment that assists students to attain their full potential as adult learners and as professionals.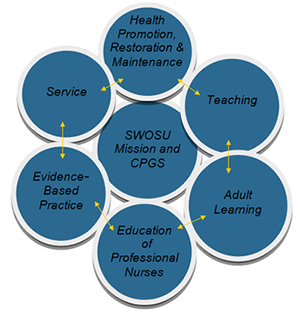 Accreditation/Memberships
Accreditation Commission for Education in Nursing
3390 Peachtree Road NE, Suite 1400
Atlanta, Georgia 30326
404.975.5000
American Association of Colleges of Nursing
Council of Baccalaureate and Higher Degree Programs of the National League for Nursing
Instructional Resources
A qualified faculty engaged in teaching, private practice, research, community service, clinical practice and consultation, offer a quality instructional program. Formal lectures, seminars, small group discussions, guest lecturers, online instruction, laboratory demonstration/ practice and scheduled clinical experiences are the methods of instruction used to insure the student of a high quality instructional program.
Instructional facilities are varied to enhance learning experiences. Among those used are rural and urban acute and long-term health care facilities, day care and senior citizen centers, area health departments, and home health care agencies.
Advisement
Each student enrolled in pre-nursing and/or the professional component is assigned a faculty adviser. The faculty adviser assists the student in developing, following, and updating, as necessary, the individual curriculum plan for each student. The student, however, has final responsibility for adherence to curriculum requirements.
Financial Information
Financing the professional nursing program is the responsibility of the student. Application for financial aid is through Student Financial Services. Additional sources of financial aid are available after the student is accepted into the major.
Careers in Nursing
Since health care delivery is constantly changing, the role of the nurse in the delivery of health care continues to change. Those who enter the nursing profession have numerous opportunities as generalists in a variety of settings as well as have a foundation to continue in graduate education for specialized areas of nursing.
Careers in nursing cover many diversified areas. Nurses today work with many different individuals and groups such as, infants, children, adults and the elderly in a variety of settings including hospitals, communities, schools, homes, clinics, industry, prisons and military installations, both home and abroad.
History
The SWOSU Nursing program was established in 1976 under the Department of Biological Sciences. The program was the first rural baccalaureate nursing program in Oklahoma.