Get to Know Us!
We're all here to help you:
Explore your college options
Plan for your academic future
Apply to SWOSU
Enroll in the classes you need
---
Contact us with your questions
Todd Boyd, Director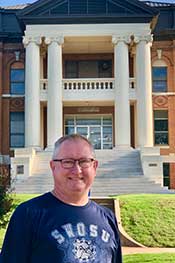 todd.boyd@swosu.edu
I am a life-long western Oklahoma resident and could probably never move away from here because I enjoy living close to my family. I also love Oklahomans and their friendliness. You can always find me at any SWOSU sporting event. I guess you could say that my loyalties run deep and that I might actually "bleed" blue!
I went to school in Hitchcock, Fay and Watonga, OK. After graduating from Watonga High School, I earned my Bachelor of Education in Mathematics at SWOSU in 1986. While attending SWOSU, I enjoyed being active in the Student Government Association and served on the Executive Council for two years. Upon graduating, I taught and coached for one year at Mayfield Junior High with Putnam City Schools in Oklahoma City. After only being away from Weatherford for one year, I jumped at the chance to return to SWOSU when the opportunity presented itself. I took a job in the High School Relations Office as a graduate assistant and began working on a master's degree. Following my completion of my Master of Education in Mathematics in 1989, I began working as the assistant director of High School Relations. I have continued at SWOSU since that time where I now serve as the director of Admissions and Recruitment.
My favorite vacation spot is Colorado in the summertime — Crested Butte area to be exact. I love to camp, hike and mountain bike while there with my family. My family and I are also frequent visitors of Silver Dollar City in Branson, MO.
Weatherford is just the right size for me and my family and just the right distance from the OKC metro area.
---
Taler Alexander, Assistant Director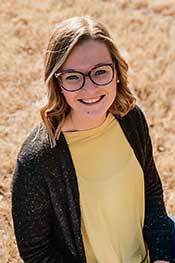 taler.alexander@swosu.edu
I was born and raised in Weatherford and my family has been a part of this community for a long time. My parents and grandparents graduated from SWOSU, so it just seemed right for me to become a bulldog after high school. During my time as a student at SWOSU, I was an Orientation Leader and a member of the President's Leadership Class (Class V) along with other clubs and organizations. I graduated in 2014 with a Bachelor of Science degree in Special Education. I began working full-time at SWOSU as the New Student Orientation coordinator. Soon after, I married my husband, Cody. Two years later, I received a Master of Education degree in School Counseling and in the spring of the following year, I became the assistant director of Admissions and Recruitment. I enjoy being a part of campus and student life at SWOSU.
In my spare time, I like to hang out with my husband and our two dogs, Greta and Gus. I also enjoy cooking, baking and helping my family with their catering business.
I love helping students make the transition into college and welcoming them into the Bulldog Family.

---
Garrett Decker, Recruiter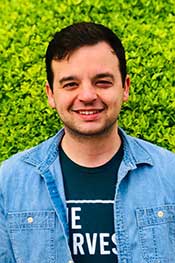 After graduating from Blair High School, I attended Western Oklahoma State College in Altus, OK, where I received an Associate degree in Agricultural Science. I then transferred to SWOSU, where I graduated with a Bachelor of Arts in Business Administration. With no clear path of where I wanted to begin a career, I took a job back home at Western Oklahoma State College working with their GEAR UP program. I loved the work so much that when GEAR UP moved to SWOSU, I packed up and moved with it! My years of working with GEAR UP awakened my passion for working with students in higher education, and when the opportunity arose for me to take a full-time position on campus; I jumped at the chance to become a permanent fixture at SWOSU! I finished my Master of Education in School Counseling in May 2020 and began working as an Admissions Counselor that same month. My favorite thing about SWOSU is the school pride and college culture! I love attending SWOSU events and seeing the students and the community come together to support their local university.
I love being active, traveling, and all things food! When I'm not working, I enjoy serving in our college ministry at FBC Weatherford, hanging out with friends, and cheering on the DAWGS and OKC Thunder!
---
Hayden Priddy, Recruiter
After graduating from Piedmont High School in 2015, I came to SWOSU on a basketball scholarship. I didn't know much about Weatherford or SWOSU but I fell in love with the place when I came on my recruiting visit and since then not much has changed. I played my four years of basketball for the Lady Dawgs with sole intentions of becoming the GA the following year and helping out on the coaching side of things instead of playing but God always has better plans. I took the job as an Admissions Recruiter in August of 2019 and have loved bringing other kids to the university that I fell in love with. I want everyone to love SWOSU but more importantly I want everyone to love whatever school they choose as much as I love the one that I chose. My favorite thing about SWOSU is that it is truly my home away from home. Ever since stepping foot on the campus I knew that this was the place for me, everything about it feels like home to me.
I love any and all things sports, family, friends and my dog Milli. If I'm not at work you can usually find me at some type of sporting event, usually watching my brothers play but I'll watch anything that has to do with competition. And if I'm not at those places I'm usually hanging out with my friends or family.
I love to travel but my heart belongs in Western, Ok. GO DAWGS!
---
Casey Dowling, GEAR UP Specialist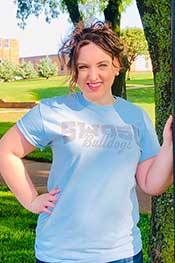 I was born and raised in Goose Creek, South Carolina which is right outside of Charleston. I graduated high school there and attended Charleston Southern University where I graduated in 2017 with a Bachelor of Science degree in Elementary Education. After graduating from college, I taught fourth and fifth grade at an elementary school in my area. In 2018, the summer after my first year of teaching, I married my husband Gage Dowling. We loved Charleston but wanted a new adventure. We packed up and moved to Weatherford, OK in July of 2019 and have loved every second of being here. I started my journey at SWOSU in August 2019 in the Student Success Center where my passion for higher education grew. I transitioned into the GEAR UP Specialist position in May of 2020 where I am able to grow my love for education more and work not only with Clinton, Duncan, and Woodward high schools, but also freshmen at SWOSU. College was a pivotal point in my life and I love helping students reach their goals and find their passions.
I love spending time with my husband and our dog, Moe. I am addicted to Chick-fil-A and I enjoy watching Grey's Anatomy, The Office, and anything Disney. When I'm not stuffing my face with Chick-fil-A, I love teaching Zumba.
---
Heather Hummel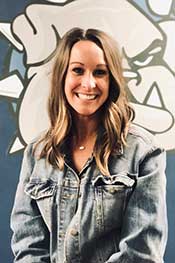 Hello Dawgs! I am Heather the Career Services Coordinator at Southwestern Oklahoma State University. Prior to being named the Career Services Coordinator, I was the Administrative Assistant in the Parks and Recreation Department. I have been employed by Southwestern Oklahoma State University since 2011. I hold two degrees from SWOSU, a Bachelor of Science in Parks and Recreation Management, and a Master of Education in School Counseling. My favorite thing about SWOSU is that there is a "family" feel when coming here. Everyone is so welcoming and friendly! I love attending SWOSU events and seeing the community come together to support one another.
In my free time you will find my family supporting the DAWGS at sporting events, enjoying the great outdoors, or exploring the wonders of the world underwater while SCUBA diving. GO DAWGS!!!
---
Dee Downs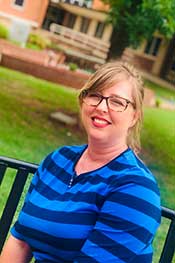 Welcome to SWOSU! My name is Dee Downs and I am the Administrative Assistant for Admissions and Recruitment! I am blessed to work with the Recruiters and Director, Todd Boyd, along with our talented group of Student Ambassadors every day, as we show prospective students and their guests all the very best reasons to become a SWOSU Bulldog. I began working full time at SWOSU in 2018 in the Engineering Technology department before coming to Admissions and Recruitment, where I also work closely with Career Services and New Student Orientation. Prior to coming to SWOSU, I worked in Texas and Oklahoma as a commercial insurance agent for 13 years.
I was raised in eastern New Mexico and western Oklahoma. I am a Weatherford High School graduate and love the community of Weatherford. I love the scenery and people of Oklahoma, and returned to Weatherford in 2012 to raise our family here. My husband, Nate Downs, also works on campus as Director of the Pioneer Cellular Event Center and is a SWOSU graduate. I have completed my Associate Degree in Science and I am currently pursuing a Bachelor degree in Organizational Leadership through the Everett Dobson School of Business at SWOSU. I am also a boy-mom of three, an avid Weatherford Eagles and SWOSU Bulldogs sports fan, love to garden, travel, cook, spend time with family and go fishing at every possible opportunity.
I have a special place in my heart for SWOSU, the faculty, instructors, professors and especially the students that call this place home.
GO DAWGS!