Operated by SWOSU since 1997, Crowder Lake University Park is a 158-water-acre and 159-land-acre park located 10 minutes south of campus. The park boasts a number of facilities and has lots of outdoor activities for the general public to enjoy.
Park Facilities
Camping
The park has five well-shaded concrete RV sites with water, electricity, picnic tables and cooking grills. A sanitary dump station for recreational vehicle use is located in the RV area. There are also seven covered concrete picnic tables with cooking grills available for tent camping. Clean handicap accessible bathroom and shower facilities are located near the camping sites.
Rental Rates & Camping Fees
RV sites rent for $20 per night and include utilities, tent sites rent for $12 per night.
The camping rates are discounted by $2 for senior citizens and the totally disabled. Camping fees may be paid at the park office or placed in the drop box after hours.
Reservations
Due to the limited number of camping sites available reservations are not taken. Camping sites are available on a first-come, first-served basis.
Fishing Opportunities
Crowder Lake has been designated a Trophy Bass Lake by the Oklahoma Department of Wildlife Conservation. In addition to excellent black and white bass, many game fish can be found in large numbers at Crowder Lake, including crappie, saugeye, blue gill and channel catfish. Several bass tournaments are held yearly at Crowder Lake. Crowder Lake is a no wake lake.
Interpretive Nature Trail
A one-mile long asphalt trail is available for park users. Funded through a grant from the National Recreational Trails Program, this scenic trail winds throughout the park and introduces the user to many native tree species.
Interpretive trail maps detailing the many identified tree species are available at the trailhead parking lot. The trail is fully handicap accessible and well suited for walking, jogging, bicycling, and skating. Motorized vehicles are not allowed on the trail.
Boating & Aquatics
SWOSU maintains a fleet of watercraft for public use. Canoes, kayaks, and stand up paddle boards are available. Paddles and personal flotation devices are supplied as well. Swimming and SCUBA diving is permitted. No lifeguards are on duty. To ensure a safe recreational experience for lake users, a no wake regulation is enforced.
Park Security
In order to provide a safe, enjoyable recreational experience for park patrons a high level of security is provided.
The park is regularly patrolled by several law enforcement agencies. The SWOSU Department of Public Safety Park Ranger Division, the Washita County Sheriff's Office, the Oklahoma Highway Patrol Lake Patrol Division, and the Oklahoma Department of Wildlife Conservation are all involved in enforcing Oklahoma laws at the park. CLEET certified park ranger officers patrol the lake regularly.
The park gate closes to incoming traffic each night at 10 p.m. and is opened at 6 a.m. Park patrons can leave the park at any time as access to the outgoing lane is controlled by a one-way traffic-control device.
Crowder Lake University Park has a no alcohol policy.
Map & Directions
Directions to Crowder Lake State / University Park:
From I-40, take Highway 54 South Exit immediately west of Weatherford. Go seven miles south on Highway 54. At the Crowder Lake sign turn left / east and go two miles on pavement. At the next intersection turn right / south. Go south for one mile. At the next intersection turn right / west. The park is approximately three-quarters of a mile from this intersection.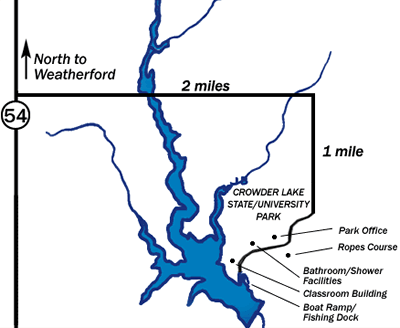 Park History
In 1958, the U.S. Soil Conservation Service impounded Cobb Creek to create Crowder Lake. 1983, the Oklahoma Tourism and Recreation Department created the park area. It becomes known as Crowder Lake State Park. In 1997, SWOSU takes over contract management of Crowder Lake State Park from Oklahoma Tourism and Recreation Department. In 2003, Oklahoma Tourism and Recreation Department transfers Crowder Lake State Park to SWOSU. It becomes known as Crowder Lake University Park.