Ropes Course at Crowder Lake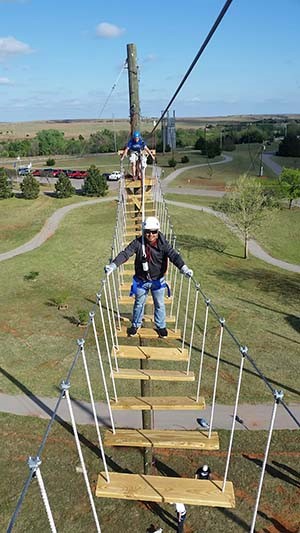 SWOSU operates an extensive Challenge Course with both low and high elements designed to enhance group cohesion, communication skills, trust, problem solving abilities, self-confidence, and leadership. The high course elements radiate from a central tower with three different cable traverses, a balance walk across a telephone pole, and a four-foot jump at heights of up to 50 feet above the ground. The high course concludes with a harrowing 100-yard cable zip from 50 to 10 feet in a matter of seconds. The course also includes a power pole. This activity involves jumping from the top of a telephone pole and grabbing a trapeze bar. The outer walls of the central tower are used for rappelling and a climbing gym is located inside.
Other programs available include basic or advanced rappelling instruction, anchor building, climbing, canoeing and sailing.
Crowder Lake University Park has a no alcohol policy.
Activity Fee Structure Per Day
| $350 | Groups of up to 15 |
| --- | --- |
| $400 | Groups of up to 20 |
| $450 | Groups of up to 25 |
| $500 | Groups of up to 30 |
| $550 | Groups of up to 35 |
| $600 | Groups of up to 40 |

Map & Directions
Directions to Crowder Lake State / University Park:
From I-40, take Highway 54 South Exit immediately west of Weatherford. Go seven miles south on Highway 54. At the Crowder Lake sign turn left / east and go two miles on pavement. At the next intersection turn right / south. Go south for one mile. At the next intersection turn right / west. The park is approximately three-quarters of a mile from this intersection.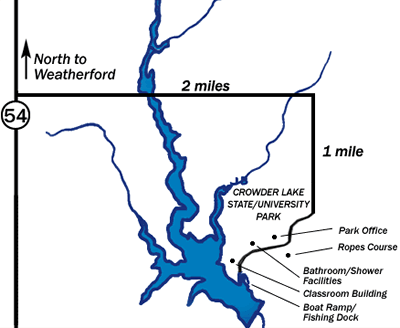 Contact
Hummel, Paul, Instructor; Dir. Crowder Lake Park
HEC 214-E | 580.774.6015
paul.hummel@swosu.edu
https://faculty.swosu.edu/paul.hummel