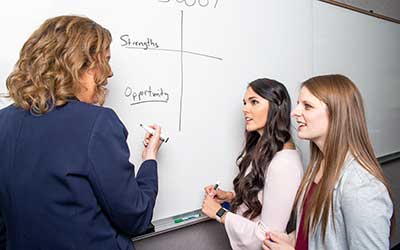 What is Entrepreneurship?
Entrepreneurship is the process of launching and managing a new business. The person who owns a small, privately owned business is called an entrepreneur. Many large corporations began as an entrepreneurship, then grew into large publicly-owned companies.
Why Study Entrepreneurship at SWOSU?
A Bachelor of Business Administration (BBA) in Entrepreneurship prepares you to launch and manage your own business. The coursework provides flexibility to choose the classes that apply to your future business. For example, if you plan to start a business using drones, a course in robotics would be applicable to learn about drone technology. Students who plan to run their family's business upon graduation usually find entrepreneurship to be a good fit.