Important Dates & Camp Costs
The Southwest Alliance for Girls' Enrichment in Science, Technology, Engineering, the Arts, and Mathematics (SAGE STEAM) Camp at SWOSU will select up to 50 middle school-aged students across the state of Oklahoma to attend this week-long summer camp.
STEPS & DEADLINES FOR CAMPER SELECTION
All forms with specific deadlines will be provided online. All deadlines are 12:59 p.m., CST.
End of January: Students currently in the 7thgrade are nominated by their middle school teachers/counselors/principal.
End of February: Nominated students receive and fill out a camper application
Completed by last week of March: Students who apply are interviewed to evaluate if this camp is right for them
Third week of April: Campers and alternates are notified of status
Due to COVID-19, the following steps were modified for the 2020 Camp:
First week of May: Campers RSVP their tentative availability to attend camp.
First week of June: The decision to proceed with the 2020 camp will be made.

If yes, campers will be asked to send in a reservation fee* and fill out online-camp forms.
If no, the SAGE STEAM Team will investigate alternatives for the 2020 campers.
New camp dates: July 19-25, 2020
*Note: The camp will cost $200 for campers to reserve their spot for this week-long, residential camp. Based on financial need, parents/guardians may request a scholarship to cover that amount. Note that camp actually costs ~$1,100 per camper, and approximately one out of three nominees are expected to be chosen – therefore, it is an honor to attend. If nominees decide not to come, they should notify the camp director immediately, so that other deserving Oklahomans can participate in this opportunity.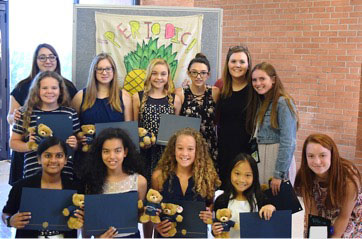 Desirable Camper Qualities
WE ARE LOOKING FOR MIDDLE SCHOOL-AGED STUDENTS WHO:
may not have opportunities such as this camp due to socioeconomic barriers, geographic location or other factors.
are passionate and motivated about learning and increasing their knowledge.
want to explore their interests in STEAM and potential career options.
have the potential to rise to the challenges of new experiences.
may need extra boosts of encouragement and self-confidence to come out of their shells.
are capable of working collaboratively as team members and working successfully on independent tasks.
are motivated to complete what they start.
have a history of showing respect and appropriate levels of self-control.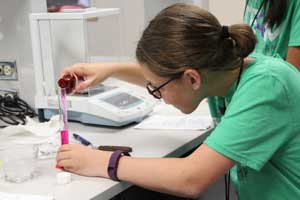 DOES THE CAMP NOMINEE HAVE TO BE THE TOP STUDENT?
Not necessarily. We are looking for campers who will grow from this experience and who will take advantage of the myriad opportunities this camp has to offer.
DOES THE CAMP NOMINEE HAVE TO FIT A PARTICULAR MOLD?
No. We do not have a particular prototypical camper. In honoring the different skills and personalities that campers bring to the experience, we are able to respect diversity, gain different perspectives, enhance creativity and enrich communication skills. The SAGE STEAM camp will also strive to serve those Oklahomans who may have limited opportunities and exposure to hands-on learning and programming -- whether this is due to financial reasons, living in rural areas and/or cultural barriers.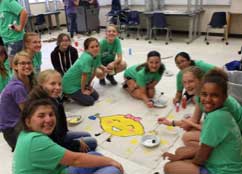 The one definite trait our campers have in common is the excitement of learning and curiosity. In turn, this camp offers many opportunities for the campers to discover who they are and who they want to become - academically, socially, professionally and personally.
Overall, the SAGE STEAM Camp hopes to improve the future of Oklahoma via encouraging more students to pursue advanced placement courses in high school, go on to college, pursue STEAM careers, become leaders in their field, and thus provide more diverse, innovative, and productive employees to Oklahoma businesses, organizations and state agencies.
To learn more about the SAGE STEAM Camp, contact the camp director at 580.774.3148 or sagesteamcamp@gmail.com.