Mission
The mission of the Southwest Alliance for Girls' Enrichment in Science, Technology, Engineering, Arts / Humanities, and Mathematics (SAGE STEAM) is to support and supplement STEM education for Oklahoma students who may not have the opportunity to experience STEAM-related endeavors otherwise. Through unique experiences via hands-on activities and field trips, integration of the Arts & Humanities to add relevance and depth of learning, and interactions with professional and college mentors, the STEAM Team empowers students to have the confidence and settings to try STEM activities across a diverse range of topics.  In addition, development of transferable skills such as collaboration, communication, critical thinking, and creativity are integrated into activities, as these skills will serve SAGE STEAM participants in a variety of situations in the future. The STEAM Team is ultimately interested in enabling and encouraging Oklahomans to appreciate, incorporate, and pursue STEAM-related careers.
Vision
The SAGE STEAM vision is to inspire students to become independent thinkers and multimodal communicators who apply critical theory and creative design to collaboratively solve issues important to Oklahoma communities via the integration of Science, Technology, Engineering, Arts/Humanities, and Mathematics.
Values
The STEAM Team aims to provide an environment for campers, K-12 teachers, counselors, camp staff, workshop presenters, and volunteers that promotes fellowship and future success via the following elements:
| | |
| --- | --- |
| Careers | To provide opportunities for mentoring, networking, and awareness of educational and career opportunities between camp participants and working professionals in STEAM-related fields. |
| Collaboration | To demonstrate the value of teamwork and how each STEAM area contributes to interdisciplinary collaborations. |
| Communication | To feature multiple modes of personal and professional communication (oral, written, visual, performance, digital) and their importance to STEAM-related fields. |
| Confidence | To empower personal growth via fostering a positive environment in which it is safe to try new things and make mistakes. |
| Creativity | To employ the idea that "Everyone is an artist" (quote by German artist Joseph Beuys) via the fundamental ability and drive of every human to create and to be creative in their own unique and irreplaceable way. |
| Critical Thinking | To encourage inquiry and independent thinking by applying the scientific and engineering methods in problem-solving. |
| Diversity | To produce an environment that raises cultural awareness and enables the inclusion of people with diverse backgrounds. |
| Respect | To model respect of self and others as well as enhance appreciation of the evolution of ideas, finding of new discoveries, and creation of masterpieces. |
| Professionalism | To teach the importance of and basic skills in professional behaviors such as meal etiquette, personal presentation, interpersonal communication, and the accommodation of differences in oneself and others. |
| STEAM Awareness | To make clear how STEAM fits into everyday life to inspire campers, counselors, workshop teachers, and camp staff to support and pursue interests in Science, Technology, Engineering, Arts/Humanities and Mathematics in making the world a better place. |
We all explore. We all discover. We all build. We all create.
We all compute. We all grow. We all contribute.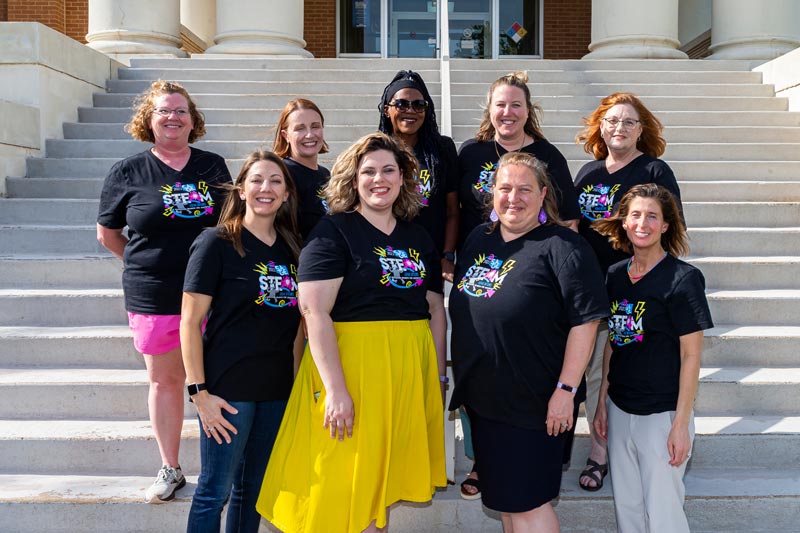 On the bottom row are Mrs. Kristin Flaming (NSF Grant Research Associate and Department of Psychological Science at Valdosta State University), Dr. Taylor Orgeron (SWOSU Language & Literature Department), Dr. Lori Gwyn (Director, SWOSU Office of Sponsored Programs and Student Success Center), and Dr. Lisa Appeddu (SWOSU College of Pharmacy. On the top row are Dr. Sally Drinnon (SWOSU College of Pharmacy), Dr. Denise Landrum-Geyer (SWOSU Language & Literature Department), Professor Natasha Tinsley (SWOSU Language & Literature Department), Dr. Gina McGrane (SWOSU Department of Biological Sciences), and Mrs. Kathy O'Neal (SWOSU Department of Mathematics). Not pictured are Mrs. Adina Foust (SWOSU College of Pharmacy), Dr. Pragya Sharma (SWOSU Department of Biological Sciences), Mrs. Marla Pankratz (Educator Coordinator), Mrs. Melanie DeFehr (Community Volunteer), and Ms. Hailey Husband (SWOSU Graphic Design student).