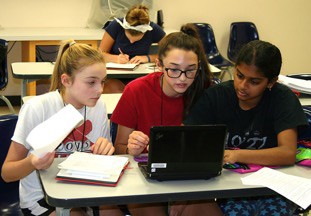 Careers in science, technology, engineering, and mathematics provide highly stable, well-paying jobs. In turn, more young women entering STEM programs provide diverse perspectives from a deeper talent pool – a win-win for the U.S. economy.
The decision to target middle school students started with a 2010 research report by the American Association of University Women, which suggested the reason fewer women than men pursue STEM careers is due to the incorrect stereotype that women cannot succeed in STEM areas (The STEM Gap: Women and Girls in Science, Technology, Engineering and Math). This fallacy starts early in life, when girls are culturally less likely to have STEM experiences and STEM female mentors. Next, in middle school and high school, girls are more likely to face social pressures which discourage them from taking STEM classes and pursuing STEM careers. The good news is that, since 2010, awareness of the "gender STEM gap" has increased, and there are more opportunities for girls to experience STEM today. However, gender stereotypes, male-dominated cultures, fewer role models, and a lack of self-confidence still persist for females in STEM. Therefore, programs (such as Tech Trek and SAGE STEAM) continue to be needed to positively impact the future interest and success of girls in STEM.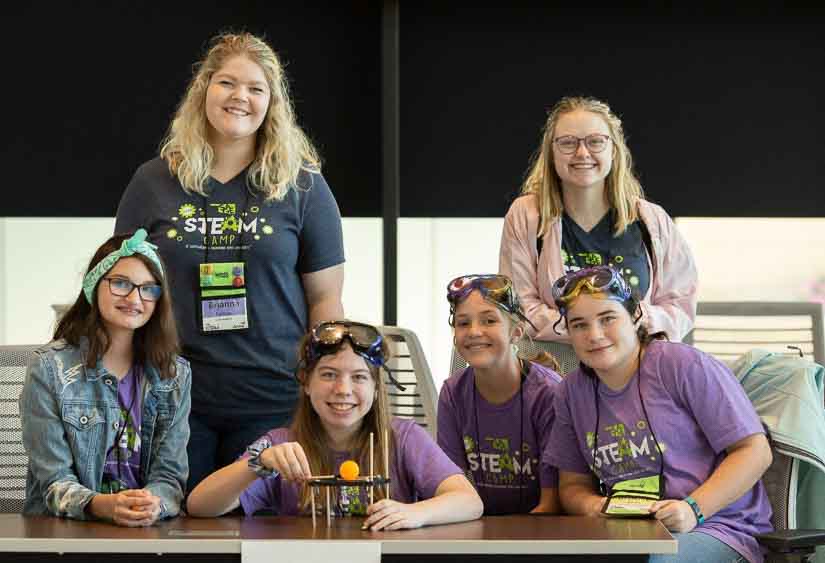 The SAGE STEAM Camp also targets campers who have fewer opportunities, seeking out Oklahoma students who may not have as much knowledge of STEM fields and their relevance. Many Oklahoma students face social, economic, and geographical barriers that limit access to technology, mentors, and educational opportunities necessary for pursuing a future in STEM. In addition, Oklahoma's education budget continues to lag behind the regional average by about one thousand dollars per child ( Report: Oklahoma lagging in per-student spending ). Since it takes money to implement STEM-rich experiences in the classroom, Oklahoma students are not given equal chances compared to students in neighboring states. Therefore, the SAGE STEAM Camp is a crucial lifeline to students who would not otherwise be able to immerse themselves in STEM learning experiences.
So why include the Arts and Humanities with STEM? From 2013 to 2017, the arts and humanities had naturally infiltrated and enriched the former Tech Trek camp. Camp committee members recognized how the arts and humanities enhanced transferable skills such as communication, teamwork, leadership, and creativity. The New York Academy of Science reported "that although there are more STEM graduates than ever before, many STEM jobs go unfilled because of the lack of soft skills" (The Global Stem Paradox). Currently, camp activities include creating team banners, writing daily reflections, learning dining etiquette, conversing with professionals, communicating experimental results, and working together to design and build catapults or to solve a math-based problem – all which foster transferable skills that will ultimately translate to more success in the STEM workplace.
Furthermore, adding the arts and humanities may help to overcome the gender STEM gap. A report based on parent surveys suggests adding art can increase student interest in subjects which are perceived as less enjoya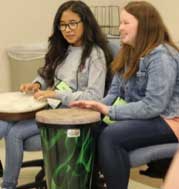 ble or less relatable, such as STEM classes (New Survey Explores Gender Gap in STEAM Education and Extracurricular Activities for Kids). As Ruth Catchen states, the arts and humanities "can serve as an on-ramp to STEM for underrepresented students" as it offers "more diverse learning opportunities and greater access to STEM for all types of learners" (STEM vs. STEAM: Do the Arts Belong?). This is especially important for underrepresented students who may feel intimidated by STEM fields.
So, the camp planning committee recruited new collaborators and incorporated additional camp activities involving the Arts and Humanities to redesign Tech Trek to become the SAGE STEAM Camp in 2018.
Camp Highlights
2021: SAGE STEAM Team hosts a Science and Recruitment Fair booth for Women in Science
2020: SAGE STEAM Team Provides Virtual Activities for OKC Dodgers STEM Day
2019 Roots and Wings Award: Lisa Appeddu (Camp Director)